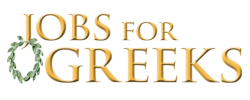 Where Employers
Find Talent
(PRWEB) April 02, 2013
As Companies enter their peak hiring season, they need to ask themselves one thing.
Company: "Where do I post my job openings?"
Answer: "JobsForGreeks.com!"
JobsForGreeks.com is a brand new website where members of the North American collegiate Greek community apply for job openings, get job search advice, and connect with fellow members. Employers with or without a Greek affiliation can post job openings on the website. This valuable service brings employers closer to the most talented pool of job seekers, Greeks.
Company: "How are members of Greek Organizations the most talented job seekers?"
Answer: "Unlike their collegiate counterparts, members of Greek Organizations are exposed to a culture that teaches them leadership, philanthropy, and hard work."
Employers may find statistics like; 19 of the last 25 Presidents of the United States are members of Greek organizations and 5 of the "Top 10 Fortune 500 CEOs" are Greek, interesting. But most employers are not posting positions that are a stepping stone for the White House.
Employers need to know if the person they are hiring is right for the position. With features like Video Resumes, and Job Seeker Profiles, employers will know if the job seeker is right for the job. Try out JobsForGreeks.com for free.
Company: "How can my company try out JobsForGreeks.com for free?"
Answer: "Email promo(at)JobsForGreeks(dot)com. The first 50 employers will receive a free 6 month subscription."
JobsForGreeks.com, Where Employers Find Talent