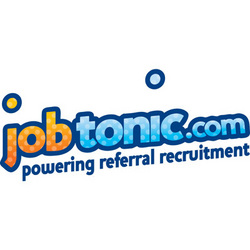 Britons Make More Time for Friendship that Ever Before
Edinburgh, UK (PRWEB) August 21, 2007
Jobtonic, the UK's leading referral recruitment site now has over 30,000 referrers signed up and ready to tell their friends about jobs. Vacancies now stand a chance of being referred to one of over 1.5 million people within the reach of the ever-expanding site. That's one in forty of the entire UK population.
The Microsoft-funded study¹ that gives the average number of friends of a person in the UK as 54 cites the rise of social networking sites as being key to helping people stay connected. By leveraging the on and off-line social networks of its referrers, Jobtonic gets vacancies in front of coveted passive candidates. Those already satisfied with their jobs make the best employees but don't typically read traditional recruitment classifieds on the web or in print.
Jobtonic rewards its referrers for successful recruitment matches with up to £2,000 in cash. Advertisers can set the level of the reward given to the successful referrer providing maximum flexibility.
Nick Goldstein, Sales and Marketing Director, Jobtonic commented "With our reach expanding all the time, it's great to see the model is working well. Our client list is growing daily and we are focussed on making sure that our eager referrers have plenty of vacancies to tell their friends about".
About Jobtonic.com
The Jobtonic process:

find a job vacancy that suits a friend
email it to them using Jobtonic's referral system
if they're successful, you get rewarded
Jobtonic is the UK's first website to reward individuals for matching candidates with positions. Jobtonic allows forward-looking employers to directly target passive candidates, considered the holy grail of recruitment. In March 2007 the site was the first in the UK to reward a successful referral hire.
1 "Britons Make More Time for Friendship that Ever Before", 30th November 2006. http://www.microsoft.com/uk/press/content/presscentre/releases/2006/11/pr03754.mspx
###