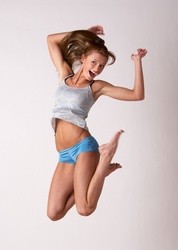 We call our contestants UnderWarriors
KENOSHA, Wis. (PRWEB) March 4, 2008
"It's that time of year when people are thinking about college basketball and filling out tournament brackets to guess who will be the championship winner," said Patty McIntosh, Jockey's Internet Marketing Manager. "We thought we'd give people a chance to win some money with the JockeyUnderWars.com Tournament - probably a lot more than they would at their office pool!"
JockeyUnderWars.com uses a typical tournament bracket system to create head-to-head matches, or dance contests, for individuals or groups that post videos of themselves dancing in their underwear.
"We call our contestants UnderWarriors," said McIntosh. "JockeyUnderWars.com makes it easy for UnderWarriors to create a profile, choose their music, film their dance moves and post their video on the site."
The real fun starts when one UnderWarrior challenges another and the voting begins.
Each participant on the site creates an UnderWarrior character and profile, and can even engage in some good-natured trash talking with other players to heighten the competitive spirit and further engage voters. UnderWarriors can solicit votes by sending links to their matches to friends and posting their videos on social networking sites.
Peer voting determines the winning UnderWarrior of each match and advances the winner higher in the bracket until, ultimately, one UnderWarrior remains and is crowned the Tournament Champion and receives the $25,000 grand prize. The Tournament will officially begin once the brackets are full, and after roughly a month of battling and voting the Champion will be crowned.
"Seats on the tournament brackets are filling up, so if you have a little bravado, a sense of humor and a potentially false sense of talent, then you may just have everything it takes for the chance to win $25,000 - but hurry!" said McIntosh.
About Jockey International, Inc.
Jockey International, Inc., is a privately held company, founded in 1876 by Samuel T. Cooper. Today, Jockey International, Inc., is a leading manufacturer and marketer of comfort apparel products sold in major department and specialty stores across the country. The products are also available in more than 120 countries around the world. Located in Kenosha, Wis., the 132-year-old company is committed to quality, comfort, fashion, innovation and value. As Jockey grows in size and sophistication, the simple commitment to serve its consumers' needs continues to be the company's hallmark. Consumers can visit Jockey on its Web site at jockey.com.