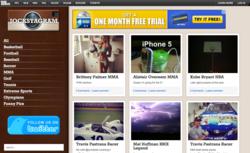 Los Angeles, CA (PRWEB) September 27, 2012
Since its launch, Instagram has hit the ground running and hasquickly gained a hefty 80 million iOS and Android users. From boxers, football players to Olympic stars, there's an incredible group of top notch athletes sharing their photos on Instagram.This has paved the way for the new website called Jockstagram.com, which provides fans with every picture posted by everyone's favorite athletes on Instagram. Instagram users will no longer need to browse through the app to find the latest picture posted by their favorite athletes.
This innovative website combines the popular picture driven platforms of Instagram and Pinterest. Both of these platforms have thrived in their own niche areas of the market and continue to grow at an exponential rate. The launch of Jockstagram.com has the sports nation on their feet as they have seemingly brought every thriving entertainment outlet together. The fierce combination of Pinterest, Instagram, and online gossip has brought fans a step closer into the lives of popular athletes like Lebron James, Kobe Bryant, Gabby Douglas, Michael Phelps and Mike Tyson.
Jockstagram.com appears to have a bright future as fans continue to demonstrate a high level of interest in knowing what athletes are up to. This increasing demand has sparked sports networks to develop segments and reality shows following the lives of popular athletes. Jockstagram.com delivers what everyone wants out of those segments, a more raw and uncut snapshot of what their lives are really like.
For sports enthusiasts across the country looking to catch up on the latest by your favorite athletes, pay a visit to Jockstagram.com.
Written By: Anthony Fernandez