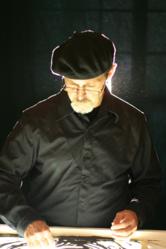 It is unbelievable, even when you have experienced it. The powerful impact of Joe Castillo's Sand Animation is indescribable.
New York, NY (PRWEB) July 30, 2011
Ten short years ago, Americans stood in disbelief as they watched their homeland being attacked. "Never Forget," the latest SandStory from Joe Castillo, is a moving tribute to the 9/11 tragedy. Upon its premier, the grace and power of the performance had the audience in tears, rising to a standing ovation as Joe's artistry and storytelling created a heartfelt memorial for those who made the ultimate sacrifice in New York at Ground Zero. "It is both a tribute and a reminder of the freedom we can still share," cites Castillo.
Joe Castillo has performed for world leaders and Fortune 500 companies such as Disney, Mercedes Benz, Bank of Dubai, CBS, NBC and the BBC. He has also performed at TEDxEQChCh, TEDActive and TEDGlobal. His Sand Animation is further scheduled to be featured in the upcoming PBS documentary "Turning the Tide" and Las Vegas production "Paris by Night." Joe Castillo will also co-author with Ken Blanchard and Deepak Chopra in the upcoming book Roadmap to Success.
The Grable Group is pleased to serve as the exclusive worldwide agent for SandStory and Joe Castillo. With over two decades of experience, Tim Grable has been privileged to help clients successfully accomplish their business marketing goals. The Grable Group is a leader in the industry working with Fortune 500 Companies like McDonald's, General Mills, Lilly, Coke-Cola, Microsoft and Pfizer in over 30 countries.
For additional information on Joe Castillo call 1-615-283-0039.
###