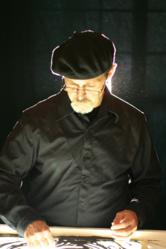 "WHAT A WOW! Our TED attendees gave joe a standing ovation."
Nashville, TN (PRWEB) July 11, 2011
Sand Artist Joe Castillo will perform two new SandStories at TEDGlobal 2011 in Edinburgh, Scotland on July 13 and 15, 2011. A mesmerizing story-teller, Joe Castillo brings an unforgettable, one-of-a-kind live performance to every possible venue. Combining corporate messages with on-the-spot creativity, Castillo will challenge, amaze and surprise any audience.
Joe is the originator of a form of storytelling art that he calls SandStory. SandStory is the art of telling stories using sand animation. Sand scattered on a light box is formed and reformed into ever changing shapes and images that tell visually powerful stories. Set to music they inspire, challenge and motivate in a captivating way. "Drawing in sand on a light table, I am able to create powerful, fluid illustrations for large audiences with an overhead video camera projected on a large screen," Joe explained. Castillo comes to this method of storytelling from another: advertising. With over twenty years running the Advertising Library Agency, Joe Castillo is masterful at using art to communicate personable corporate messages.
Joe Castillo has performed for world leaders and Fortune 500 companies such as Disney, Mercedes Benz, Bank of Dubai, CBS, NBC and the BBC. He has also performed "The Rediscovery of Wonder!" to close the TEDActive 2011conference. His Sand Animation is further scheduled to be featured in the upcoming PBS documentary "Turning the Tide." Joe Castillo will also co-author with Ken Blanchard and Deepak Chopra in the upcoming book Roadmap to Success.
The Grable Group is pleased to serve as the exclusive worldwide agent for SandStory and Joe Castillo. With over two decades of experience, Tim Grable has been privileged to help clients successfully accomplish their business marketing goals. The Grable Group is a leader in the industry working with Fortune 500 Companies and over 30 countries.
For additional information on Joe Castillo call 1-615-283-0039.
More information about Joe Castillo is available online.
###