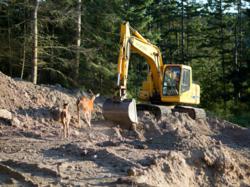 The work highlights disruption in the landscape through human presence and intervention.
Bellingham, WA (PRWEB) October 26, 2011
An art exhibition titled "Not Nature: New Photographic Works by Joe Rudko" will be on display through Monday, Nov. 7 in the lobby of the Science, Mathematics and Technology Education (SMATE) building on the campus of Western Washington University.
A senior Art student from Woodinville, Joe Rudko (http://www.joerudko.com) completed the work during summer 2011 as the first Marine Sciences and the Arts intern at Western's Shannon Point Marine Center (SPMC) in Anacortes.
In "Not Nature," Rudko uses photography to study everyday juxtapositions that give clues about human interactions with our physical environment. The work highlights "disruption in the landscape through human presence and intervention," said Rudko.
He made the work during his internship at Shannon Point, working alongside undergraduate Marine Sciences interns from around the country.
"The SPMC internship exposed me to the day-to-day workings of marine scientists and a field of study outside of my fine art experience," said Rudko.
With the support of the National Science Foundation, Shannon Point has been operating an undergraduate internship program in marine sciences for more than 20 years. Students spend nine weeks taking a small research project from conception to completion, giving presentations to peers and faculty advisors at the end of the summer.
The Marine Sciences and the Arts Internship was initiated in Summer 2011 by SPMC Director Steve Sulkin as an experiment funded by Shannon Point Marine Center in a collaboration across disciplines.
"Scientists need to communicate and see their research in a larger context," said Sulkin, adding that by bringing a budding artist together with young scientists, the internship challenges students with different backgrounds to have a broader understanding of their work.
For information about the Marine Sciences Internship and Shannon Point Marine Center, contact Stephen Sulkin, professor and director at steve(dot)sulkin(at)wwu(dot)edu.
###