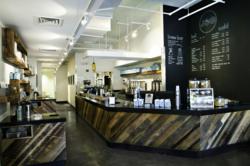 "Visiting a Joe is as much about the theatre of making coffee as the actual cup. We wanted to make sure the show was highlighted through the design." - Kristina Crenshaw, Streetsense
Philadelphia, PA (PRWEB) April 23, 2013
Joe Coffee adds to its seven New York locations with a new store in Philadelphia, Pennsylvania. In search of a great coffee shop, Philadelphia native and retail expert Michael Salove convinced owner Jonathan Rubenstein to open his first shop outside of New York on the historic Rittenhouse Square. "When we first looked at the storefront and realized its significance – on the exquisite Rittenhouse Square, surrounded by the best retail, a farmer's market, and attached to a famous office tower – we couldn't resist deciding to do our first shop outside of New York City here," says Rubenstein.
Joe recently unveiled its 1,100-square-foot location on Walnut Street on April 2, 2013. The Rittenhouse location has an upscale feel, featuring warm tones, granite, and reclaimed wood. For the interior design, Rubenstein hired Streetsense (Bethesda, MD), which visited each location and brought elements from those shops into the Rittenhouse location. "Each store contained some element that spoke to the type of experience the client wanted to create for his patrons," says project designer Kristina Crenshaw. "Streetsense's challenge was to bring these elements together into one design style, while leaving enough room for each subsequent space to express its own character."
Joe Coffee distinguishes its stores from other multi-store coffee shops in that they want the experience at each location to feel like an independent shop. Joe's unique ability to showcase the theatrics of espresso-making is emphasized by the fact that each order is finished with a different latte art shape and served without the lid. "Visiting a Joe is as much about the theatre of making coffee as the actual cup," says Crenshaw. "We wanted to make sure the show was highlighted through the design."
Rubenstein is already focused on future expansion – Joe Coffee in Rittenhouse is just the first of more Joe's to come to the area. Drexel students and professors can enjoy a cup of Joe later this year when their second Philadelphia store opens in University City. While the same essential parts were used for this location, the look and feel of the space will be completely different from the experience at Rittenhouse. Patrons can expect an edgier feel with cooler tones and bright splashes of color throughout.
About Streetsense:
Streetsense is an integrated brokerage, architecture, design, branding, and development company specializing in retail, hospitality, restaurants and real estate. Established in 2001, Streetsense is the premier, and only truly full-service, retail-centric company in the real estate market today. For more information, please visit http://www.streetsense.com.