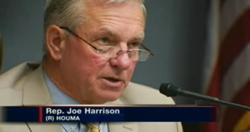 Elderly citizens bring unique needs and opportunities to bear that can only be addressed by a department whose sole purpose is focused on these needs
Houma, LA (PRWEB) May 29, 2013
Representative Joe Harrison, (R), District 51, will testify during Senate debate of House Bill 352 on Thursday, May 31 at 1 pm CST, a bill that will create the Louisiana Department of Elderly Affairs. The bill passed with overwhelming support in the House with a vote of 102 to 0 and is expected to receive similar support in the Senate. Hundreds of supporters packed committee rooms and the House floor during House debate and are expected to do the same during Senate hearings.
If passed into law, the bill would create the first agency of its kind in the nation that is exclusively focused on the needs of the state's elderly population. The department would replace the Office of Elderly Affairs currently operated as a segment of the Office of Administration.
Representative Harrison stated: "Elderly citizens bring unique needs and opportunities to bear that can only be addressed by a department whose sole purpose is focused on these needs. The contributions of our elderly form the very foundation upon which our state is built and the time has come for our state to respond with a singular focus on the needs of this important segment of our population."
A press conference by Representative Harrison is expected to follow Senate debate.
More information is available online at http://www.joeharrison.us or by calling 800-935-2081.