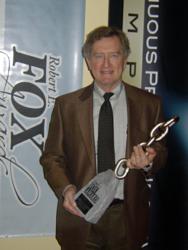 Your successful past will block your visions of the future.
Seattle, WA (PRWEB) November 23, 2012
Joel Barker has long been known to be somehow holding a crystal ball containing the futures of the global business world and Carlton's Training Solutions is airing these views in a pair of new corporate training videos.
Getting there first is the only thing that matters. Time and time again innovation is the key to success and there is no replacing it. Second place gets you nothing. This is the business world at large and in reality, the real world period. Joel Barker has spoken to numerous fortune 500 companies and traveled all over the world preaching his concepts of seeing business paradigms to get there first.
Barker's analysis is best defined in the smash success The Business of Paradigms, a corporate training video that demonstrates that seizing the opportunities produced when shifts in business models, strategy and public perceptions alter perspectives. In the program Joel studies current businesses and why they are successful. But the key these businesses hold is seeing not where their business is now but where it will be tomorrow.
Barker's message and strategy is achieved by recognizing not what a business is or even what it can be but more where it can be. Even successful organizations who fail to adapt to changes in technology, what drives employees and most importantly what drives consumers will not see themselves in the future. Joel Barker comments, "Your successful past will block your visions of the future."
In Joel Barker's Leadershift: Five Lessons for Leaders in the 21st Century, Barker explores the five concepts that increase a leader's performance. The program utlilizes inspiring leaders and their vivid stories in locations all over the world to explain how to use these concepts to lead an organization into the future.
About Carlton's Training Solutions
Carlton's Training Solutions provides corporate training videos and consulting services to organizations on subjects ranging from innovation training and communication training to generational issues and harassment training. For its programs, Carlton's has employed the likes of Tom Peters, John Cleese, Dewitt Jones, Ben Zander, Joel Barker, Catherine Crier and Bob Farrell. To take a look at other programs or view other subject areas for training click here at http://carltonstraining.com