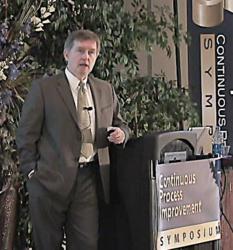 Producing quality has become a disease. And if you don't get it you may not survive.
Los Angeles, CA (PRWEB) December 03, 2012
The Joel Barker videos by Carlton's Training Solutions offer solutions for businesses. Joel Barker explores why some companies get it and others don't. Why successful companies can get the clients and achieve great business success while others fail. Carlton's Training videos, like those from Joel Barker are put in place by companies who see that productivity, employee satisfaction and the customer are all intertwined.
What creates a paradigm shift? So much has been written about paradigms and an organization's belief system affecting the bottom line. But is it real? Can't a company just work harder and achieve? The simple answer is, no. It can't. For to not follow paradigm shifts or create a new one and expect success is like asking a present day company if they can succeed without a telephone, computer or the internet.
Joel Barker gives great examples in The New Business of Paradigms that shows these shifts in paradigms create business opportunities. In the program, one example illustrates how a team of engineers developed a two ton car that could go zero to sixty in ten seconds while only using a 16 horsepower engine. It's supposed to be impossible. But the engineers didn't know that. So it became part of their paradigm shift. They simply worked on the project until the car could do what it needed to do.
In Barker's Tactics of Innovation, quality and innovation are linked to successful businesses like never before. When companies care to create a system to perfect their products, that belief sets them apart in that they are able to achieve it. Companies creating quality are beating the pants off organizations that see that level of quality as impossible under their present budgets. But now competition demands it. Barker states, "Producing quality has become a disease. And if you don't get it you may not survive."
About Carlton's Training Solutions
Carlton's Training Solutions gets their high quality programs from the best business minds of the century to train on subjects like sexual harassment training, generational issues, workplace bullying, harassment training and diversity training. These contributors include Bob Farrell, Catherine Crier, Dewitt Jones, Tom Peters, Morris Massey, Ben Zander, Ken Blanchard and Stephen Covey as well as larger than life personalities like John Cleese and Lou Holtz. To view more of these programs or learn more about Carlton's Training Solutions click here at http://carltonstraining.com