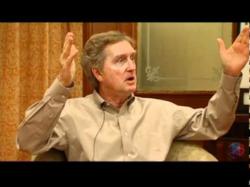 The best way to predict the future is to invent it.
Phoenix, AZ (PRWEB) June 13, 2013
Carlton's Training saw that a Joel Barker Paradigm video demonstrates changes in everything from the music of the Beatles to Apple Computer and Steve Jobs. In his New Business of Paradigms video Barker demonstrates that throughout the history of inventions whether it be the electric guitar or a line of code these paradigm shifts control what we use, what we like, even whom we marry. Carlton's Training has a line of training videos in which Joel Barker addresses these shifts and how they affect the world and global economy.
It seems odd to say that the Beatles changed the law or that Steve Jobs became a matchmaker to couples the world over. But Joel Barker will leave one scratching their head and walking away with the admission that it is technically and physically an actuality.
The Business of Paradigms is a Joel Barker training video that explores how ideas can lead to inventions and how inventions can lead to paradigm shifts in the world. He not only dissects how business strategy can be implemented off these shifts but also sees the advent of new inventions on the horizon that companies can utilize to gain an edge on competition. "The best way to predict the future is to invent it," says Barker.
Probably the greatest game changer and biggest shift in the last century is the modern computer. Steve Jobs popularized computers to such a degree that he made computers not just for the office but also for personal home use. This paradigm shift led to the Internet, and the Internet exploded not just in fulfilling needs of the corporate world but for companies like Youtube and yes, dating sites like Match.com.
Because the Beatles wrote their own music, intellectual property law became an important element in the studios' acquisition of artists and their 'inventions' or music. Studios at the time owned the artist and since they recorded and produced their music owned the rights to the songs. Other artists began to enjoy these freedoms and contracts began to include or often times specifically stipulate ownership of records, masters and duplication rights.
The Power of Vision by Joel Barker is a training video that explores the infinite capacity of human invention. This program demonstrates how companies have taken their vision and utilized the right tools in the coming paradigm shifts to gain market share and even create new positions for their organizations.
Carlton's Training saw a great future in Joel Barker training videos. His message is clear and helps companies adapt to changes that will affect their business and the global economy as a whole. Other notable authors with Carlton's are John Cleese, Catherine Crier, Bob Farrell, Tom Peters, Ken Blanchard, Dewitt Jones and Ben Zander. To check out training videos by these authors or view any Joel Barker training videos, click on their site here at Carlton's Training.