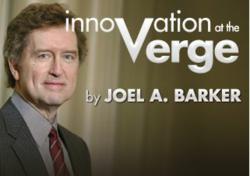 Vision without action is merely a dream. Action without vision just passes the time. Vision with action can change the world.
New York, NY (PRWEB) November 17, 2012
Joel A Barker is a business visionary whose revolutionary ideas are brought to life in corporate training videos by Carlton's Training Solutions. No one can predict the future. But it is uncanny how Barker has time and time again saw the changes in the business world and made the right decisions for the future. A Joel Barker paradigm could be defined as a shift in the world that needs to be addressed in the form of change to be successful. And historically, this is about business evolution. Carlton's Training Solutions presents solutions to changes in the business world with the renowned Joel Barker.
Paradigm Pioneers is a breakthough in the world of corporate training videos. As the title suggests companies have to be first. An organization has to be the one discovering new shifts in business. Business managers don't have to invent the wheel, but they have to see how new inventions, technology, popular thought and ideas are shaping the future and how a company can make the necessary changes with that information. If a company just follows where everyone else is going it can never be on the cutting edge. And that's what Paradigm Pioneers by Joel Barker focuses on.
Another program by Mr. Barker is Innovation at the Verge. It's mind blowing what companies in two very different industries can accomplish by seeign how they fit together to provide a new wave of products or services. In this program, Joel Barker demonstrates with specific examples how the creativity of one organization forging with the leadership in another can form a powerful alliance that benefits all their clients and even reaches a new demographic. Risk taking is an obviously huge factor in the success of any innovation. An idea has to be explored and executed to cause a paradigm shift and succeed. Barker out it thusly, "Vision without action is merely a dream. Action without vision just passes the time. Vision with action can change the world."
So how can an organization utilize the power of innovation or be the first to get there? Just like one studies other industry professionals and competition, these programs by Joel Barker illustrate what to study and how to intepret the data in a manner to get a clear vision as to the direction your organization should be taking. Barker has done a great deal of the work here. Now companies just need to apply the theory to their organization for change and growth.
About Carlton's Training Solutions
Carlton's Training Solutions has provided training to corporations for over thirteen years in the areas of change management, harassment and management training. The corporate training world has a handful of highly regarded professionals in the area of business mangement. Carlton's provides training videos from all these professionals including but not limited to John Cleese, Morris Massey, Ken Blanchard, Lou Holtz, Joel Barker, Tom Peters, Stephen Covey, Dewitt Jones, Ben Zander, Bob Farrell, and James Autry. To see more programs by these authors and other subjects click here at http://carltonstraining.com