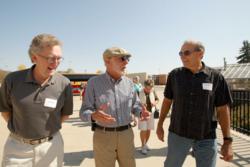 Innovation is simply a fundamental shift in thinking that creates powerful opportunity.
Louisville, KY (PRWEB) January 21, 2013
Carlton's Training Solutions has answered the call for stronger management training content with the Joel Barker training videos. The programs have been awarded the Golden CINDY award for excellence. Joel Barker and his theory on paradigms have helped make Carlton's Training Solutions the management training powerhouse they are today.
Paradigms are a funny thing. Predicting them proves illogical while utilizing them seems inscrutable. Companies that pay close attention to paradigm shifts and new innovations seem to go farther and last longer in the business world. One benefit when companies innovate is the wealth of new jobs these innovations bring. Not to mention the success they bring to other businesses completely unrelated to them. Innovation in management training has become vital to growth in the twenty-first century.
The key is finding places for innovations. Often throughout history great innovations were ignored for the area or business for which they were originally intended. One example is the invention of a German robot with one powerful arm that could be used for the moving of parts in a manufacturing plant. But when the company that developed it wasn't offered very much they pitched it to work as a roller coaster! Putting two improbable things together can be an incredible breakthrough innovation.
Innovation at the Verge is the latest in the series of Joel Barker training videos. The program focuses on how to assess innovations early for their long-term implications. Most innovations are designed to create immediate or first order implication. But they often have cascades of implications that keep going. Barker's strategy focuses on how to see these second term and third term implications that might be even more profound and useful than the first.
The management training program that started it all is of course The Business of Paradigms. Success stories are shown where companies were able to see the combination of events in their field and design a method that would enhance productivity. Barker says, "Innovation is simply a fundamental shift in thinking that creates powerful opportunity."
Carlton's Training Solutions offers corporate training on a myriad of subjects such as conflict resolution, what is diversity, ethics and conduct, finance training, customer service videos, telephone customer service training, time management, trainer for trainers, workplace violence, generational differences, discrimination, performance management training, safety training, sales training, sexual harassment training, substance abuse, and team building.
Carlton's Training Solutions developed their training videos around such business greats as Dewitt Jones, Catherine Crier, Ben Zander, Bob Farrell, Tom Peters, John Cleese, Morris Massey, Joel Barker, Ken Blanchard, Stephen Covey, and Lou Holtz. See other topics on corporate training or learn more about Carlton's Training Solutions by clicking on their site carltonstraining.com. Joel Barker management training from Carlton's Training Solutions creates opportunities for businesses with far reaching positive implications.