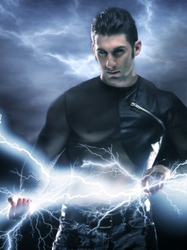 Working on the STORM video was a great experience for me as an artist. The production team was top-notch and helped me deliver a fantastic video presentation of STORM.
West Hollywood, CA (PRWEB) March 1, 2010
Pop singer, actor and model Joel Evan is stepping out with abs blazing and a driving dance beat on a brand new music video to accompany his recent club single release titled STORM.
"STORM is a natural progression for me into the pop/dance arena," says Evan, who saw his 2009 pop release "I'll Keep Smiling" well-received and in heavy rotation on LOGO. The new video can be seen in clubs internationally and viewed on YouTube, where it has already become an online phenomenon.
STORM, co-written by Evan and Ronnie Sumrall and produced by Rod Carrillo, evokes classic Depeche Mode and suits Evan's husky baritone. The video, shot on location at the LA offices of FLAUNT Magazine, features the muscled and well-oiled model-turned-singer dancing up a storm, complete with rain and choreography by Benjamin Allen. Director Matt Aaron Krinsky takes advantage of Evan's sculpted body, keeping the singer shirtless throughout most of the production which mixes peep show voyeurism with performance clips featuring dancers Nicky Bricks and Leah Singer. Completing the lavish video production, fabulous costumes were designed by Maggie Barry with edgy makeup designed by Victoria Rowe.
"Working on the STORM video was a great experience for me as an artist. The production team was top-notch and helped me deliver a fantastic video presentation of STORM," states Evan. "I am looking forward to using my acting chops and expanding my work in front of the camera."
In demand and capitalizing on the success of the new STORM single, Evan has been making the rounds at Hollywood parties and walking red carpets with his flair for style. Recently, Evan attended the InTouch Weekly party hosted by Mary Murphy of SO YOU THINK YOU CAN DANCE to raise money for Haiti relief, the F.A.M.E. party honoring the WGA award nominees at Haute in West Hollywood and even strutted his stuff for celebrity designer Maggie Barry's new Spring collection fashion show.
Joel Evan recently performed STORM at the NEXT Music Group Los Angeles DJ record pool event to a standing room only crowd and is slated to appear at Sacramento Pride 2010 this June.
The new STORM video is set to the Josh Harris radio version, which is one of 11 tracks on the maxi-single CD. The STORM remix project includes club mixes by Rod Carrillo, Josh Harris, Eddie X, Peter Brown, Sted E and Hybrid Heights. "STORM" is currently available for download on iTunes and is also available in digital and disc formats from CD Baby and Perfectbeat.com.
For more information please visit: http://www.joelevanmusic.com
For bookings and media inquiries please contact:
Media Giants
(310) 652-2283
http://www.mediagiantsusa.com
ABOUT JOEL EVAN:
Joel Evan is an American singer/songwriter who writes and sings in both Japanese and English. The powerful opera-trained baritone voiced artist has released two albums independently. His freshman album "Enjoy the
Sadness," (March 2007). The album received rave media reviews in both the United States and Europe including the blog site Beautiful Magazine, which first introduced Evan to the world. His sophomore album, "Embracing the Light"...and then some explored Evan's take on the levels of human existence, from the average guy next door to being on a quest for higher enlightenment. Evan describes the album as "a fusion between singer/songwriter, Latin pop, J-pop, and Deepak Chopra." The first single and video from "Embracing," titled "I'll Keep Smiling," (January 2009) made a big impact in clubs and on cable television programs.
With his movie star looks and thirst for creative growth, this enigmatic artist's popularity is growing exponentially. Joel Evan was named one of the "artists to watch" in 2009 in a syndicated wire article that has run in several domestic publications and in Canada. Evan has also appeared on television and radio shows throughout the U.S.Future projects for Joel Evan include several regional performances and plans for a third album.
###