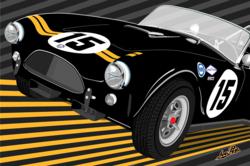 Working with the AbsoluletyCanvas.com team I can feel secure that ever print is made, built and shipped with quality which is has always been paramount as an automotive illustrator… I expect 100% satisfaction with every print sold. JoepeP
(PRWEB) February 05, 2013
Twenty years of working on comic books and graphic novels is bound to color the way a person interprets the world. For Archie Comics' past art-director and the proprietor of Pepitone Creative Services & JoepeP Automotive Portraits, Joe Pepitone—or JoePep (written "JoepeP") as he's known to his friends and to the art world, this has influenced his illustrations with bold, bright colors, careful yet whimsical detailing, and in his beloved automotive portraits, an overriding knowledge of and passion for his four-wheeled subjects.
As an automotive illustrator JoepeP's work has been featured in Hemmings Classic Car magazine "Auto Art" October 2009 and most recently was one of the featured artists at the AACA Museum at Hershey "Night at the Museum" event. In January 2013 Hemmings Muscle Machine showcased JoepeP's Carroll Shelby's CSX2128 in their Speedobilia.
Working on comic books and graphic novels, it shows in his careful, yet whimsical attention to detail in his beloved automotive portraits. That skill was put to good use in July 2012, when JoepeP was commissioned to illustrate Carroll Shelby's CSX2128 for an event honoring Shelby's life and designs.
To date, his rendition of the car--known as Hey Little Cobra, and which was inspired by the song of the same name--is one of his favorite illustrations. Now people who weren't able to attend the Shelby tribute can get their hands on this stunner of an illustration; reproduced on gallery-wrapped canvas, it's a truly unique piece for the garage or office, and the perfect gift for the Shelby fan or car enthusiast in your life. Available in several sizes: 18 x 12 inches; 30 x 20 inches; and 36 x 24 inches. High-quality poster reproductions are also available.
"Working with the AbsoluletyCanvas.com team I can feel secure that ever print is made, built and shipped with quality which is has always been paramount as an automotive illustrator… I expect 100% satisfaction with every print sold."
Order Joe peP's work as a custom canvas art print at the Absolutely Canvas website. http://www.absolutelycanvas.com/artist-Joe-peP-828.html.