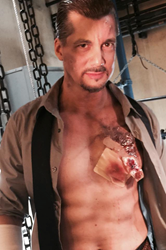 A film that would include many nods to the videogame series 'Resident Evil' and the character that brought me so many fans to begin with – Albert Wesker
Los Angeles, CA (PRWEB) October 22, 2015
The production company behind the hit SyFy show "Z Nation" and the mega-hit franchise "Sharknado" have started principal photography on an action zombie film tentatively titled "XP-573."
The script, written by Brandon Trenz and Jacob Cooney, involves an elite military unit investigating a remote military compound that went dark ten years earlier after a top secret biological weapons program went haywire. Leading the unit is Lt. Gibson, played by Joey Lawrence. Assisting the team is a CIA virologist, Mikaela Usylvich, played by former WWE Diva Maryse Mizanin. Within hours of their arrival they discover a survivor, Col. Aiden Wexler, played by D.C. Douglas.
Douglas had approached The Asylum with the idea of doing a zombie film that paid homage to the "Resident Evil" videogame fan base, as detailed in his blog post.
"About two years ago I asked my fans on social media if they'd be interested in my doing a zombie film with The Asylum — A film that would include many nods to the videogame series 'Resident Evil' and the character that brought me so many fans to begin with – Albert Wesker," writes Douglas. "So, it's finally happening."
Douglas has been the voice of "Resident Evil" bad guy Albert Wesker since 2007.
This is the second time Maryse Mizanin has worked with The Asylum, having appeared in "Sharknado 3." This is Douglas' eighth, with the most recent outings being "Sharknado 2" and last weeks appearance on SyFy's "Z Nation" as Pa Kettle.
Many pictures from the set of "XP-573" can be found on twitter by following @DC_Douglas, @JoeyLawrence and @maryse0uellet.
"XP-573" is slated for a mid 2016 release.