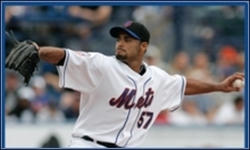 Skin cancer is on the rise even though it's one of the most preventable cancers
New York (Vocus) June 9, 2010
Major League Baseball pitcher and two-time Cy Young Award winner, Johan Santana, will hold the Johan Santana All-Star Bowling Classic on Monday, June 21st, 2010 at Lucky Strike in Manhattan to benefit the Johan Santana Foundation, which was established to build awareness of skin cancer risk factors and symptoms as well as to support other worthy causes.
Together with Santana, other Mets players, and celebrities and guests will enjoy an evening of dinner, bowling, and a silent auction. All proceeds from the event will be dedicated to outreach and enrichment programs in the United States and abroad.
"Skin cancer is on the rise even though it's one of the most preventable cancers," said Santana," but early detection and treatment can save your life. If you do see a mole or anything changing or growing on your skin, get to a dermatologist quickly and get it checked out. Skin cancer doesn't have to be deadly."
Skin cancer affects one in five Americans, and one American dies of melanoma almost every hour. More than one million cases of skin cancer are diagnosed each year, and, of these, more than 108,000 are melanoma, a cancer that claims nearly 8,000 lives annually.
In June 2007, Johan held the first Johan Santana Celebrity Bowl-A-Thon in Minneapolis, Minnesota as a tribute to Lynne Greenberg, the wife of one of his agents, Ed Greenberg, who had passed away from melanoma at age 42. Lynne Greenberg was considered a part of Santana's extended family and together with her husband had attended family events and celebrated Santana's successes as a close friend.
"I want people to know how to protect themselves and their families," stresses Santana. "Make sure to put on sunscreen before you go out and reapply it after you swim, after you sweat, or even if you're just hanging out. More than 90 percent of skin cancer is caused by too much sun."
In addition to his foundation, in 2007, Santana became a spokesman for the Play Sun Smart™ program, a public service partnership that teams the American Academy of Dermatology (Academy) with Major League Baseball (MLB), and the Major League Baseball Players Association (MLBPA) to educate players, teams, staff, and fans about the importance of skin cancer prevention and detection.
Since the program's inception in 1999, more than 21,572 players, trainers, coaches, and staff members have been screened for skin cancer, and more than 600 suspicious lesions have been detected including 70 suspected melanomas.
"Baseball players and baseball fans spend a lot of time in the sun," said Santana. "I love the game, and I want to be playing it for a long time, so I protect my skin, and I hope my fans will too."
Johan Santana has been a starter for the New York Mets since 2008. Prior to playing in New York, he played for the Minnesota Twins from 2000-2008. Among his many achievements during his career with the Twins, he won the Cy Young award twice and the Major League Pitching Triple Crown, the first player to do so since Dwight Gooden, in 2006. For more information on the Johan Santana All-Star Bowling Classic or the Johan Santana Foundation, visit http://www.johansantana.org/bowling.
###