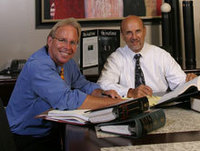 I can't say enough about what an excellent attorney John Bisnar is
Newport Beach, CA (Vocus) August 12, 2010
John Bisnar and Brian Chase, the Newport Beach personal injury attorneys of BISNAR | CHASE (http://www.BestAttorney.com), have been named two of the top five personal injury lawyers in Orange County, California in the August 2010 issue of OC METRO magazine, based on data from the well-known Internet lawyer rating service Avvo.
John Bisnar, founder of BISNAR | CHASE and a 32-year law veteran, and Brian Chase, senior partner at the firm and a 17-year law veteran, both received "perfect 10" scores and "superb" ratings based on their background, years of experience as personal injury lawyers, successful track records, impeccable reputations with clients and peers, and professional accomplishments.
John Bisnar, Legal Veteran and Consumer Rights Advocate
John is a native of Southern California and U.S. Army veteran. In 1974, he graduated cum laude from California State University, Long Beach with a B.S. Degree in Finance/Investments. In 1978, Bisnar received his JD degree from Pepperdine University School of Law. He was admitted to the California State Bar in July 1978 and shortly after, he graduated from Pepperdine University College of Trial Advocacy.
As featured in Newsweek's The Best of Los Angeles Law, John has a long-standing reputation for providing compassionate, clear advice and getting outstanding results for victims of car accidents, defective products and general negligence. To date he has represented 6,124 clients with a 97.8% success record. He has recovered hundreds of millions of dollars for catastrophically injured accident victims and the families of deceased accident victims. He is a passionate advocate of consumer rights and has been praised for his tenacity in standing up to large corporations, automakers and even governmental entities on behalf of his clients.
"I can't say enough about what an excellent attorney John Bisnar is," said bankruptcy attorney James Brown. "His command of the law is downright admirable and is only rivaled by his passion for his clients. I've had the pleasure of knowing him for several years and am consistently amazed with the way he helps his clients get what they need."
Brian Chase, Auto Product Liability Expert
Brian has been practicing law for over 17 years, concentrating in automobile product liability, catastrophic injury cases and government tort. He attended Pepperdine University School of Law, where he earned a JD degree and was associate editor of the Pepperdine Law Review. He has tried over twenty jury trials and, in the last couple of years, has successfully obtained numerous seven- and eight-figure settlements with various automobile manufacturers. Within the last year, he settled, during trial, two major cases against Ford Motor Company involving wrongful deaths and catastrophic brain injuries.
Brian has published numerous articles and is a frequent nationwide lecturer on litigation-related topics and has made numerous radio and television appearances, including interviews on CBS Special Reports, Peter Jennings/World News Tonight, and America's Best Lawyers. Most recently, he was featured on several KTTV Fox 11 News reports in Los Angeles, where he provided expert insight regarding auto defect and product liability issues, including defective seat backs and vehicle black box recorders.
Presently, Brian is a Vice President of the Consumer Attorneys of California and is a past President of the Orange County Trial Lawyers Association. He is also a member of the Consumer Attorneys of Los Angeles, Trial Lawyers for Public Justice, The American Association for Justice, The Million Dollar Advocates Forum and the Christian Legal Society. He was also involved in two published appellate opinions: Schreiber v. Estate of Kiser (a California Supreme Court case dealing with expert witness designations) and Hernandez v. State of California (an appellate case from the Second Appellate District dealing with governmental design immunity).
"Brian's achievements as a top Orange County lawyer are a source of immense pride for our firm," said Bisnar. "Not only is his extensive legal experience invaluable to the clients we represent, he is committed to our community and has forged a reputation as a leader in this industry. His legal acumen is absolutely critical to the success of our practice."
Avvo: Comprehensive Evaluation in 19 Areas
The Avvo rating system, which is relied on by thousands of people across the nation, is based on rankings in 19 different legal categories. This includes years in practice, disciplinary history, professional achievements and industry recognition. Avvo periodically collects background data from multiple sources, including state bar associations, court records, lawyer websites and other pertinent information. The rating is calculated using input from hundreds of attorneys, thousands of consumers, and legal experts. Under the scrutiny of this comprehensive rating system, both John and Brian scored at the top in experience, industry recognition and professional conduct.
John Bisnar and Brian Chase, Respected Legal Authorities
John's book The Seven Fatal Mistakes That Can Wreck Your California Personal Injury Claim is an authoritative guide for anyone who has suffered a personal injury in California. This comprehensive handbook spells out for injured victims the important steps they need to take immediately after they suffer a personal injury. It's a must-read for anyone who wants to find out the important pitfalls to avoid and the best way to make sure they get fair compensation for their injuries, damages and loss.
Brian's book, Still Unsafe at Any Speed -- Auto Defects That Cause Wrongful Deaths and Catastrophic Injuries, has received widespread acclaim for being the definitive guide to auto product defects. The book offers readers valuable information on common vehicle defects and includes real-life accounts of how defective autos have destroyed people's lives.
About BISNAR | CHASE
The BISNAR | CHASE law firm's Los Angeles area personal injury attorneys represent people who have been very seriously injured or lost a family member due to an accident, defective product or negligence throughout California. The law firm has won a wide variety of challenging personal injury and defective product cases, involving car accidents, work related injuries, dog attacks and defective products made by Fortune 500 companies. For more information, visit http://www.BestAttorney.com and http://www.CaliforniaInjuryBlog.com.
###