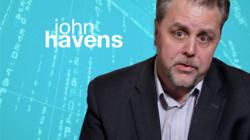 John is...a rare breed who is able to communicate complex concepts in simple and entertaining terms.
--- from the Business Development Institute​
South Orange, New Jersey (PRWEB) May 14, 2013
John C. Havens is a futurist keynote speaker, contributing writer for Mashable.com, author of the book Tactical Transparency (published by Wiley), and emerging/social media consultant who has worked with clients including Gillette, HP, P&G, Merck, Microsoft, and Wal-Mart. John is now represented by Eagles Talent Speakers Bureau for keynote speaking engagements.
He has been a thought leader for new/social media since 2005 when he worked at About.com (owned by the New York Times). John was also the EVP for Social Media at Porter Novelli. He has focused his keynote presentations, breakout session workshops, and Q&A's on the ROI of Social and Emerging Media.
John is also the founder of the Happathon Project which was inspired by an article he wrote called: The Value of a Happiness Economy. The focus is the realization that data can teach people how to optimize their well-being, help others, and save the world. He is working on a book, schedule to be published in 2014, which will be on the subject of hacking happiness and his Happathon Project.
John has spent a lot of time writing and speaking about the ROI and pitfalls of emerging technology, such as Google Glass, FitBit, and the Internet of Things. He examines how global brands will incorporate these into their marketing and business as well as sharing the realistic challenges of the possible privacy issues.
John examines complicated technological ideas and presents them in a cultural and business context with the goal of providing immediate value. In John's keynote presentation, he explains how technology works, provides statistics and case studies, as well as applicable insights for his audiences.
"I really Research who I'm speaking to [whether it's] marketers, digital savvy or not, all levels of the organization, [and, in fact] where are they geographically based," Said John C. Havens.
John is available as a keynote speaker on technology trends for organizations and markets such as corporate, associations, government, and non-profit, as well as colleges and universities. His presentation and studies are based on his research, insights he writes in Mashable articles (the NY Times for technology), as well as consulting.
Some of John's speaking programs include:
1.Turning Emerging Technology into ROI for Marketing and Business.
2. The ROI of Quantified Happiness
3. How Emerging Mobile Technologies Will Transform Culture and Commerce
4. How Virtual Commerce Will Alter Identity
5. How Emerging Mobile Technologies Will Transform Culture
6. Mapping the Future of Consumer Interactions
If organizations are interested in inviting John C. Havens to speak at a conference, convention, business meeting, or lecture series event, contact Eagles Talent Speakers Bureau at 1-800-345-5607.
Eagles Talent Speakers Bureau was founded in 1979 with the single focus of making a positive impact on organizations by providing keynote speakers, top motivational speakers, business thought leaders to clients all over the world for their meetings, conferences, and special events. We believe in people who inspire, educate, and entertain.