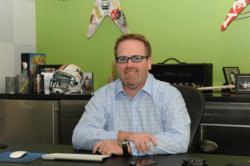 Duffy will appear live with Dylan Ratigan to discuss entrepreneurship and 3Cinteractive on MSNBC Thursday, January 26,2012 at 4pm ET/PT
Boca Raton, FL (PRWEB) January 24, 2012
3Cinteractive®, the leading provider of cloud-based enterprise mobile solutions for the Fortune 1000, announced that its founder and CEO John Duffy will appear on MSNBC's "The Dylan Ratigan Show" on Thursday, January 26, 2012 at 4:00pm (ET/PT).
Duffy's appearance is part of the highly rated daytime broadcast show's "30 Million Jobs" tour, which is making a stop in Miami. The innovative road show is examining the roots of our current unemployment crisis and solutions to unleash growth. The tour is visiting what Ratigan describes as cradles of innovation, mini-ecosystems where innovators and pioneers are taking resources and capital and using it to improve the world. 30 million represents the number of jobs needed to have 100% US employment.
Duffy will discuss the contributing factors to 3Cinteractive's success as well as how entrepreneurship is key to fueling job creation and economic growth in our nation. Dr. Susan Amat, the co-founder and executive director of The LaunchPad, the entrepreneur and innovator resource center at the University of Miami, will also be appearing with Duffy.
About 3Cinteractive
3Cinteractive® (http://www.3Cinteractive.com) provides enterprise mobile solutions that help our clients improve efficiencies by extending operational and CRM processes to the mobile channel. 3Ci's cloud-based mobile platform – Switchblade® – allows businesses to deliver multi-channel mobile applications on any handset or carrier, using integrated technologies such as messaging, mobile web, smartphone apps and voice. And our expertise in mobile makes it easy for businesses to deploy and maintain effective mobile solutions. 3Ci is an active member of the CTIA and Mobile Marketing Association and is listed as one of the top ASPs by the Common Short Code Administration. Follow 3Cinteractive on Twitter @3Cinteractive and on Facebook at http://www.facebook.com/3Cinteractive.
###