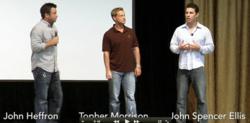 A strong mind will propel you to greatness in everything you want to do in life. You have to train your brain just as you train your muscles.
(PRWEB) January 29, 2012
No matter how famous you are and no matter how many times you've done a routine successfully, everyone is susceptible to the negative, doubting voices of the "inner heckler," even the winner of the "Last Comic Standing." To help tame those voices and reframe the focus to success, stand-up comic John Heffron has joined fitness and personal development guru John Spencer Ellis to offer new online training that helps people find personal success at http://www.innerheckler.com.
The online training covers the reasons people fail to reach their full potential in fitness, wellness, coaching and lifestyle training and what they can do to turn that around, including planning for success, being present and engaged, and focusing on the things done well. The Inner Heckler program can help people who have struggled with diets, panic attacks, procrastination, exercise, excuses and more.
"Believe it or not, we have about 50,000 thoughts per day, which can have a huge impact on our state of mind and our overall success," said Ellis. "We'll help you harness those inner conversations for the good, so you can make small, smart and specific choices that help you achieve your goals and find greater enjoyment in life."
The Inner Heckler training teaches participants the five keys to taking control of the inner heckler and turning it into a fan instead of a foe as well as effective techniques for improving the quality of thoughts, focus and goal achievement.
"As a stand-up comic on stage or on TV, I have no room to second-guess myself. I have to be 100 percent in the 'yes, I can do this' department," said Heffron, who uses positive self-talk, neuro-linguistic programming, life coaching and more for personal success. "Now aside from performing comedy all over the country, my joy comes from helping you reach your full potential by learning to silence that voice that – until now – was likely stealing your dreams.  It would be an honor to help you make all of your dreams come true.  That's what Standing Up to Your Inner Heckler is all about."
The online training includes a personal road map to success that comes from facing and standing up to the inner heckler, education delivered via streaming video, audio lessons and ebooks with immediate access, a free eBook called Change Your Mind – Change Your Life, comedy breaks, an online forum and much more.
About John Spencer Ellis Enterprises and the Inner Heckler
John Spencer Ellis Enterprises is a solutions provider for fitness and coaching professionals around the world, providing education, turn-key business programs, coaching and resources for new and advanced fitness and coaching professionals. For more information about John Spencer Ellis Enterprises or to learn more about the Inner Heckler online training, please visit http://www.innerheckler.com
###