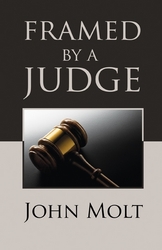 So Who Can You Trust?
Ferndale, WA (Vocus) July 2, 2009
Author John Molt claims he was framed by a judge in Hyde Park, N.Y. in July of 1970. Later in life, John was going to school for a license to be a security guard. He noticed a poster on the wall with a young man in jail, holding onto the bars with the caption: "I was framed". John was inspired to write his story.
Now the truth is finally revealed in the pages of his new book: "Framed by a Judge". John started writing about three years ago with the intent of bringing the truth to light regarding what this judge did with a hope that some how his name will be cleared.
The book was written in about three months after collecting information and interviewing all the people involved to piece together the entire story. It was important to John to present a story based on facts and his personal experience. John has a unique way of expressing himself which is evident in the book.
Inspired by authors like Jim Stovall and Andy Andrews, John has completed his second soon to be released book "So Who Can You Trust?" and is working on a third. Now a resident of Tulsa, OK, John encourages writers not to wait as long as he did to get the story within them on paper.
"I like to think that in some small way I will make a positive impact on someone's life through my book. Many have asked how I keep a smile on my face considering all I have been through. I smile and say, 'It's a choice'" - John Molt
For more information visit http://www.johnmolt.com. To schedule an interview contact: John Molt - johndavidmolt (at) gmail (dot) com
# # #