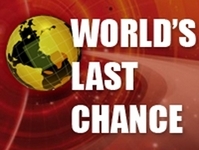 Revelation 17 proves that the end is nearer than we imagine. From all the apocalyptic prophecies nothing is as clear as this study in revealing that the Second Coming of our beloved Saviour and Redeemer Jesus Christ will take place in a matter few years from now. And that the next pope, John Paul II impersonated, will also be the final pope before the Second Coming of Christ
Cairo, Egypt (PRWEB) October 18, 2007
World's Last Chance, an online Christian ministry, has released this 9-minute video for the most important Bible prophecy of this century: the impersonated return of John Paul II after Pope Benedict XVI. The video is the second of a series based on the study of Revelation 17. The two videos, seen at YouTube and Google Video, confirm that the next pope after Benedict will be a demon who will turn the world upside down and will serve as the last pope before the Second Coming of Christ.
World's Last Chance produces the most viewed, controversial and translated end-time Bible prophetic videos on the net. Their newest video Prophecy of the Century II is a sequel to their most viewed and most discussed video which was released earlier this year.
"Just think of the sensational excitement generated by the flicker of the image of Pope John Paul II waving in the bonfire lit in Southern Poland. Then imagine what will be the response of the world when we behold the exact impersonation of John Paul II 'resurrected,'" said Dahlia Doss of World's Last Chance. "If you were intrigued or defiant after watching the earlier video 'Prophecy of the Century - Must See Before it Happens', then you will not want to miss this sequel as it provides riveting secular evidence supporting this prophecy."
The video defines the mysteries behind certain unprecedented symbols used in the burial of John Paul II and their link to his impersonated resurrection soon to take place, including why John Paul II was buried in a trapezoidal-shaped coffin. Surprisingly, the video includes a Catholic prophecy of all the future popes since 1143 until the end of the world by Irish Saint Malachy in support of the fact that the next pope will be the last pope.
"Revelation 17 proves that the end is nearer than we imagine. From all the apocalyptic prophecies nothing is as clear as this study in revealing that the Second Coming of our beloved Saviour and Redeemer Jesus Christ will take place in a matter few years from now. And that the next pope, John Paul II impersonated, will also be the final pope before the Second Coming of Christ," concluded Doss.
For the Bible study on the Book of Revelation, chapter 17, read: Bible Prophecy Reveals Next and Last Pope Will Be a Devil Impersonating John Paul II.
About World's Last Chance
World's Last Chance is a ministry that was founded in 2004. It is operated by a team of volunteers dedicated to sharing the last message of mercy to be given to the world before the soon second coming of Christ.
Contact:
Dahlia Doss
World's Last Chance
0020122465878
###