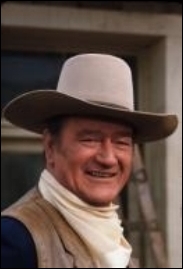 Continuously ranked among the top ten of America's current favorite film stars we think my dad's 100th birthday is the perfect time to premiere an official web site where John Wayne fans can gather and share their enthusiasm
Newport Beach, Calif. (PRWEB) April 11, 2007
Today's global launch of http://www.johnwayne.com signals the start of a year-long celebration of the legendary star's 100th birthday (May 26, 1907). Unveiled in Wayne's long-time hometown of Newport Beach, California, the premiere of the new Internet site coincides with "Ten Decades of 'The Duke': The Official John Wayne Centennial Celebration" (April 21 - 28, 2007) in Newport Beach, featuring the largest John Wayne film retrospective ever produced.
"Continuously ranked among the top ten of America's current favorite film stars we think my dad's 100th birthday is the perfect time to premiere an official web site where John Wayne fans can gather and share their enthusiasm," said Ethan Wayne, Wayne's youngest son and president of Wayne Enterprises. "Although very popular with audiences during his career and beyond, it's hard to believe he never had an official fan club - this state-of-the-art site will be just that."
The site features an interactive biography with an interactive timeline, an extensive filmography with links to original movies trailers, pop-up trivia throughout, an online community (a blog, message boards and e-fan kit: Instant message icons, wallpaper, etc.), a news and events section, on-air movie schedule (Wayne's films are shown 3-4 times daily on broadcast and cable outlets nationwide) and links to various affiliated sites (John Wayne Cancer Foundation, Team Duke, John Wayne Cancer Institute, etc.). Phase two of the web site will debut within six months and will feature exclusive site components and an online store.
Also kicking off the centennial year is "Ten Decades of 'The Duke': The Official John Wayne Centennial Celebration," part of the 2007 Newport Beach Film Festival. Wayne, considered by many to be the most popular movie star of all-time, will be feted with the largest film retrospective ever staged showcasing his legendary Hollywood career.
The showcased films represent all five decades of Wayne's status as a screen star and include many of his most memorable roles. Several of the films will be accompanied by rarely seen bonus footage and vintage trailers. Additionally, numerous friends and co-stars will participate in the screenings including co-star and legendary Grammy Award winning singer/songwriter Glen Campbell ("True Grit"), Hollywood legend A.C. Lyles, Dan Ford (Official biographer of John Ford and grandson of the legendary film director), Wayne's son and frequent co-star Patrick Wayne ("The Searchers," "The Alamo," "The Quet Man," etc.), Andrew McLaglen (2nd Unit Director on "The Quiet Man" and son of frequent Wayne co-star Victor McLaglen) and co-star Robert Carradine ("The Cowboys"). Screenings will be hosted by Scott Holleran, popular writer, columnist and editorial producer for the motion picture website http://www.boxofficemojo.com.
The roster of films include Wayne's Academy Award-winning performance in the hit film "True Grit" (1969). Other films to be showcased include "Stagecoach" (1939), "The Sands of Iwo Jima" (1949), "The Quiet Man" (1952), "The Searchers" (1956), "Rio Bravo" (1959), "The Man Who Shot Liberty Valance" (1962), "The Cowboys" (1972) and "The Shootist" (1976) among others. A symposoium entitled "John Wayne and the American Western" will be presented, free to the public, on April 21 and will be hosted by noted actor and western film authority Jim Beaver ("Deadwood," "Big Love," "Hollywoodland," etc.).
"Newport Beach is the perfect venue for this film salute because probably more so than any other town, Newport Beach is truly John Wayne territory," said Gary C. Sherwin, president and CEO, Newport Beach Conference and Visitors Bureau. "People can literally walk in Wayne's footsteps here - from his beloved yacht The Wild Goose docked in Newport Harbor to various restaurants, clubs and other locales throughout the city."
Other centennial festivities throughout the year include events in Wayne's birthplace of Winterset, Iowa, a collection of special edition DVD releases, film marathons on various broadcast and cable outlets and an assortment of commemorative and limited edition products.
John Wayne appeared in more than 175 films (including a record-breaking 142 leading roles), garnering along the way the Best Actor Academy Award (1969), three Golden Globe Awards, four People's Choice Awards and both the Congressional Gold Medal (1979) and the Presidential Medal of Freedom (1980). Wayne is considered among the "Top 100 Icons of the Century" (Daily Variety, October 2005) and one of the "100 Greatest Americans" of all time (Discovery Channel, April 2005).
The 2007 annual Harris Poll of America's favorite film stars finds Hollywood legend John Wayne at number three - - an incredible feat considering his last film was released in 1976. Wayne has never been out of the top ten since the poll began in 1994 and has placed in the top three slots eight times, proving that he remains as popular and enduring as ever.
In addition to the John Wayne centennial, the 2007 Newport Beach Film Festival will highlight more than 400 films, offering an ambitious and international selection of features, shorts, documentaries, and animation that will compete for both jury and audience awards. Now in its 8th year and set just a few blocks away from spectacular coastline (and less than an hour from Hollywood) the festival will host several premieres, galas, and yacht parties, attracting an estimated 35,000+ film lovers from across the country and around the globe.
For more information readers can contact http://www.visitnewportbeach.com, http://www.newportbeachfilmfest.com or http://www.johnwayne.com.
(Note to Editors: For additional event information, news media inquiries and photos, please contact: Tim O'Day, 714-783-7415 or Jessica Roswell, 949-719-6100).
# # #