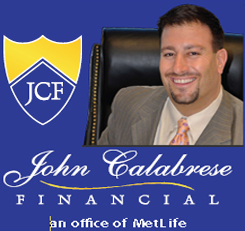 Staten Island, NY (PRWEB) September 30, 2012
John Calabrese of Staten Island has been named Man of the Year for 2012 by the National Federation of Italian-American Societies, Inc.
The award will be presented at the organization's annual Awards and Scholarships Presentation Gala in October. On that same evening, he will be inducted into the Knights and Dames Committee of the NFIAS.
Calabrese, who is a Financial Services Representative and Financial Advisor at John Calabrese Financial an office of MetLife located in Brooklyn New York and Staten Island, earned the honor by virtue of his contributions to his communities through his business and charitable endeavors. As a member of the Board of Directors of The Joseph Anthony Verdino, Jr. Foundation, Calabrese is instrumental in the construction of a new state-of-the-art Little League stadium at South Shore Little League. John is also an Ambassador for Staten Island Economic Development Corporation. SIEDC's mission is to enhance a thriving Staten Island economy by promoting public and private investment, and encouraging the development of commercial and industrial property and projects in an environmentally friendly manner, all of which improve the quality of life and provide broad and diverse employment opportunities. At the heart of this mission is the belief that access to economic opportunity and secure jobs is a pillar of strong communities. John also sits on the Board of Directors for The South Shore Merchant Program, funded by Councilman Vincent Ignizio, which is aimed at enhancing the commercial districts of Annadale, Eltingville and Great Kills. Through this program, merchants receive benefits such as promotion, sanitation and beautification in an effort to draw shoppers and visitors, which in turn will enhance the economic vitality of the towns. Ultimately, this program will lead to the creation of the South Shore Local Development Corporation (SS LDC), which will continue to provide services and assistance to the businesses in the area. He has also sponsored autistic children for summer camp.
In 2007, Calabrese became the youngest member in history to be inducted into the MetLife Hall of Fame. He consistently ranks among the company's elite performers.
The National Federation of Italian-American Societies, Inc., is a Brooklyn-based organization whose mission is to assist families and individuals in need. For more information on the NFIAS and its annual Awards Scholarships Presentation Gala, please contact Arnaldo Ferraro, Ph.D., at arnaldofer(at)msn(dot)com.
Metropolitan Life Insurance Company (MLIC), New York, NY 10166. Securities products and investment advisory services offered by MetLife Securities, Inc. (MSI) (member FINRA/SIPC) and a registered investment adviser. MLIC and MSI are MetLife companies. John Calabrese can be reached at (718) 567-3105 or (718) 983-4335, or by e-mail at jacalabrese(at)metlife(dot)com.
L0712271681[exp0213][NJ,NY]