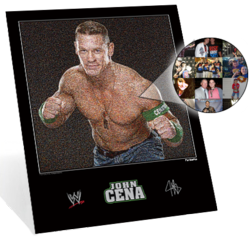 Northfield, OH (PRWEB) October 19, 2012
Fan Mosaics and WWE are inviting John Cena's devoted fans to show their allegiance to the 10-time WWE champion through the official John Cena Fan Mosaic.
Featuring a powerful image, this officially-licensed photo mosaic will be built entirely from fan-submitted photos.
"John Cena is famous for signaling to opponents 'You can't see me,'" says Rob Hixenbaugh, Fan Mosaics' Director of Fan & Brand Development. "Now, we're giving his fans the chance to see him up-close and personal. By submitting their photos, all of Cenation can be part of this unique tribute to their hero."
Fans can upload their photo for inclusion for free at http://www.FanMosaics.com/Cenation through November 18, 2012. They can also own a piece of WWE history by ordering a high-quality, 24"x 30" commemorative print of the mosaic.
About Fan Mosaics
Northfield, Ohio-based Fan Mosaics, LLC, is the bridge that connects fans and stars. The company's officially licensed celebrity photo mosaics—composed entirely of fan-submitted images—are a unique and lasting outlet for fans' enthusiasm and loyalty. Entertainers in all industries choose Fan Mosaics to thank fans for their dedication, and charities partner with Fan Mosaics to raise funds for their worthwhile causes. Visit http://www.fanmosaics.com to view completed and current projects and to learn more about the Fan Mosaics creation process.