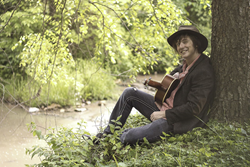 "there seems to be a bright future in store for John Dennis" - Rootstime
Nashville, Tennessee (PRWEB) December 09, 2015
From Freeburg, Illinois to Nashville, Tennessee folk singer John Dennis is releasing his album, Eternity's Tree. With clear influences such as Bob Dylan, Bruce Springsteen, and Paul Simon, unique vocals and imagery earn John his own distinction. Session player, producer, and record label CEO, Bryan Clark, discovered Dennis and shortly after, signed him to his label. This is John Dennis' first release since signing onto Rainfeather Records in 2013.
John Dennis describes Eternity's Tree as the culmination of years of loss, struggle, and ultimately redemption—basically, his life story up to this point. Using the form of storytelling, Dennis touches upon situations from his life growing up, to more recently, including the struggle of losing his girlfriend when she passed away. This peace, introspection, and honesty can attract listeners of all ages to this budding songwriter.
Newly entering the music scene in Nashville, Dennis already has a great connection who helped make this album fulfill its potential. Guitar virtuoso Bryan Clark is the producer of Eternity's Tree, bringing forth his expertise in playing, arranging, and as an engineer.
You can learn more about John Dennis at http://www.johndennismusic.com
For more information, images, or to arrange for an interview, please contact Melissa Infurna at Powderfinger Promotions: melissa(at)powderfingerpromo(dot)com.
Powderfinger Promotions–Independent Radio Promotion and Publicity. Since being founded in October 1994, Powderfinger has come to be regarded as a top indie radio promotion and publicity firm with ties across North America.