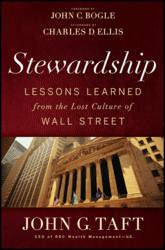 "Our stewardship legacy is defined not just by how we serve others during our lifetimes, but the impact of our actions on generations into the future," says Taft.
Hoboken, NJ (PRWEB) March 06, 2012
As the CEO of RBC Wealth Management, one of the most prestigious financial services firms in the U.S., and former chairman of the Securities Industry and Financial Markets Association, John G. Taft is uniquely qualified to offer an "insider's view" of the finanical crisis, including a detailed analysis of the stewardship failure of some Wall Street institutions and leaders that caused one of the most difficult periods in the financial industry.
Driven by a conviction that purposefulness, accountability, humility, integrity, and foresight are our duty, and that making the world a better place is our calling, Taft outlines his belief in the core principles of stewardship in his book, "Stewardship: Lessons Learned from the Lost Culture of Wall Street" (Wiley, Hardcover and ebook, March 2012, $27.95, 978-1-1181-9019-7). The book presents an intelligent, thoughtful argument for the importance of establishing service to others as the key to saving ourselves from the ongoing financial crisis, and creating a more stable and compassionate financial system by restoring confidence and renewing hope.
Born out of Taft's participation in legislative and regulatory efforts to rewrite the rules under which the U.S. securities industry will operate for decades to come, the book offers a unique response to the challenges of the financial crisis. Inspired by Taft's experience running one of the largest wealth management firms in the country during the financial crisis, the book:

Provides an in-depth analysis of the ways in which Canadian banks responded to the crisis with integrity and established themselves as models of fiscal responsibility
Evaluates the effectiveness of global financial reform efforts in making the financial system safer, sounder, and more secure
Offers wealth management prescriptions for individual investors
Evaluates the potential of ESG (environmental, social, and governance) investment processes as a way to instill stewardship behaviors among corporate CEOs, particularly at financial services firms
Considers how a renewed commitment to helping others has implications for the future of the financial services industry, the prevention of future crises, the protection of the environment, and much more
Taft, the great grandson of U.S. President William Howard Taft and grandson of Senator Robert Taft, builds on his family legacy that is well known for its commitment to integrity throughout the book. "It's particularly in times like a financial crisis that core principles matter. These principles are the only solid ground under our feet when everything is, or seems to be, unstable," says Taft. "Because of my family's values I have always believed in the importance of these principals and that if you don't get them right, nothing else matters."
To illustrate his arguments, Taft employs engaging end-of-chapter vignettes that demonstrate his ideas in action. Extensive appendices on EU financial reform, the Basel III Accord, and thoughts on creating a more compassionate future augment the text to create a fascinating guide to a better future.
"Our stewardship legacy is defined not just by how we serve others during our lifetimes, but the impact of our actions on generations into the future. It will also determine whether we prevent sustainability threats to society in areas like resource scarcity, climate change, population growth, fiscal policy, and income inequality," adds Taft. "Our collective willingness to live up to our stewardship responsibilities will determine whether or not we repeat or abet future recurrences of the financial crisis of 2008-2009. Our future literally depends on it."
Keeping in line with his stewardship values, Taft will be donating all proceeds of the book to charity.
For more information, please visit http://www.johngtaft.com.
About the Author
John Taft is CEO of RBC Wealth Management in the U.S. – the sixth largest full-service retail brokerage firm in the U.S. John served as Chairman-Elect in 2010 and Chairman in 2011 of the Securities Industry and Financial Markets Association (SIFMA), the leading securities industry trade group representing securities firms, banks and asset managers in the United States. As a SIFMA representative he advocates for responsible financial reform and has testified before Congress in support of a federal fiduciary standard of care for investment professionals who provide advice to individual clients.
If you are interested in an interview with Taft or if you would like any additional information, please contact Melissa Torra, Publicist – WILEY mtorra(at)wiley(dot)com – 201-748-6834 or Sanam Alaghband, RBC, – sanam(dot)alaghband(at)rbc(dot)com – 212-618-5589