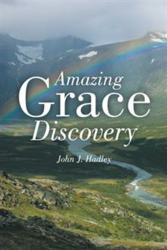 Hadley hopes that readers will "know what the purpose of Newton's lyrics in 'Amazing Grace' are and that God's saving grace is universally abundant, all-sufficient and available to all people that ask in humble submission to their Creator."
Iowa City, Iowa (PRWEB) May 10, 2013
John Hadley states in the opening chapter that "… many people throughout the world would say that 'Amazing Grace' is one of their favorite hymns of inspiration. It is a hymn that truly captures the 'hearts imagination' and 'exercises the mind in thinking about God'." It is Hadley's goal in "Amazing Grace Discovery" (published by CrossBooks) to show just where and what those inspirational words mean.
The idea for the book came to him one morning after he had sung Amazing Grace in a worship service. After pondering the words he decided to let his curiosity win and traverse biblical texts and documented research to find the song's true meaning.
In "Amazing Grace Discovery", Hadley casts off with John Newton on the storm-tossed ship 'Greyhound' which, as he explains, should have been destroyed during a storm in 1748. Hadley explains to readers why Newton "chose to present his personal response to God's saving grace in the form of a hymn – lyrical poetry – and his purpose for writing it."
Once readers have acquired a strong understanding of where the lyrics came from, Hadley switches to an examination of the words themselves. Each lyrical phrase is broken down as Hadley clarifies what he believes is the true definition of "each phrase of each verse using authoritative passages from Holy Scripture and the poetic sentiments and heart-felt prayers from many of Newton's other hymns."
An excerpt from "Amazing Grace Discovery":
"I once was lost, but now I'm found"
"When Newton wrote that he had been lost, he was referring to being lost spiritually, in other words, walking in spiritual darkness and looking for answers to life in all the wrong places. Then, he discovered the truth of God's word in the Bible and his spiritual eyes were opened to God's amazing grace."
Hadley hopes that readers will "know what the purpose of Newton's lyrics in 'Amazing Grace' are and that God's saving grace is universally abundant, all-sufficient and available to all people that ask in humble submission to their Creator."
"Amazing Grace Discovery"
By John Hadley
Hardcover | 6 x 9in | 306 pages | ISBN 9781462721139
Softcover | 6 x 9in | 306 pages | ISBN 9781462721115
E-Book | 306 pages | ISBN 9781462721122
Available at Amazon and Barnes & Noble
About the Author
John Hadley serves as a musician and worship leader at All Nations Baptist Church in Iowa City, Iowa. Throughout his life, Hadley has performed the great hymns and spiritual songs of the Christian church as a choir member, soloist and worship leader. Hadley is self-employed. He has three children and two grandchildren.
CrossBooks, a division of LifeWay Christian Resources of the Southern Baptist Convention, is a Christian publishing imprint committed to bringing more Christian voices into the publishing industry. Established authors, first-time authors, and authors anywhere in between can meet their goals and fulfill their vision for their books by publishing with CrossBooks. CrossBooks' innovative style of publishing blends the best of traditional and self-publishing. While our authors contribute monetarily to cover the cost of publishing, we maintain a strict moral and quality standard that every manuscript must meet for us to publish. For more information on publishing your Christian book with CrossBooks, log on to crossbooks.com or call 1-866-879-0502.