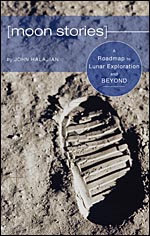 Long Island, NY (PRWEB) May 31, 2013
From an engineer who pioneered the scientific exploration of the moon comes a unique and innovative read, Moon Stories: A Roadmap to Lunar Exploration and Beyond. In this book, readers will follow author John Halajian's experiences on space exploration.
Moon Stories: A Roadmap to Lunar Exploration and Beyond retells Halajian's journey and contribution to the lunar science and space exploration program that landed men on the moon in the 1960s. As a consultant for NASA in lunar science and exploration, Halajian pioneered technologies such as digital imaging. His story is one of hard work and determination for advancements tickling the imaginations of the scientific community. Not only a story of science and technology, Moon Stories is the tale of one man, his passion for knowing the unknown, and mankind's desire to reach beyond the here and now.
Moon Stories and its predecessor, Armenian Church Architecture, were published within less than a year of each other. The books are connected by their aspiration to reach heaven following different paths; one path takes readers on a spiritual journey while the other leads readers down a physical road of discovery into the heavens.
For more information on this book, interested parties are encouraged to log on to http://www.tatepublishing.com/bookstore/book.php?w=978-1-60247-528-1.
About the Author
John Halajian is an engineer who pioneered the scientific exploration of the moon, and an expert student of Armenian sacred architecture. Born in Damascus, Syria, on January 1, 1926, he spent his early years in Damascus, Syria, where he completed his primary and secondary education in the French Jesuit School. After obtaining his French baccalaureate, he received his bachelor's degree in civil engineering and architecture at the American University of Beirut. He pursued a Master's Degree in Civil Engineering, with a specialty in soil mechanics, at Harvard University. Shortly after graduating, he got married and was blessed with four daughters.
He was employed at Grumman Aerospace in Bethpage, Long Island, and was recruited to provide his expertise in soil mechanics for the purpose of developing a proposal for NASA regarding the manned lunar landing mission. Halajian's research also led him to other area levels, and through his work, he co-invented a pioneering version of the digital camera. Following the lunar landing, and his migration within Grumman to a life of normalcy, he devoted much time to the building of his own home in Long Island, NY, and reverted to his passion for architecture and building.
Aside from handling various responsibilities and positions, Halajian was also known as a writer of essays on a variety of subjects. At the end of his life, he took solace in knowing that a compilation of his best writings would soon be published in book form. Halajian touched so many lives with love, humanity, knowledge and artistry. Among all of his accomplishments, he remained humble.
Moon Stories * by John Halajian
A Road Map to Lunar Exploration and Beyond
Trade Paperback; $12.99; 194 pages; 978-1602475281
Members of the media who wish to review this book may request a complimentary paperback copy by contact the author at 6314879151 or email at arpesads(at)aol(dot)com; mylisemarg55(at)gmail(dot)com .