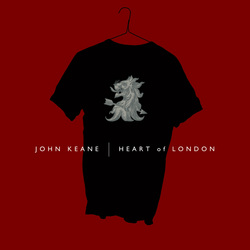 Los Angeles, CA (Vocus) November 16, 2010
John Keane, composer for hit CBS drama CSI, has announced the release of his new EP, "Heart of London," on November 16th through Laycut Records. The EP is being distributed by BFM Digital, a leading digital music aggregator and distributor of independent music.
John began his longtime career as part of the popular 70's pop duo The Keane Brothers along with his brother Tom. The group released four albums under 20th Century Records before becoming the youngest entertainers to ever host their own variety show, The Keane Brothers Show.
After the brothers disbanded to pursue solo careers, John went forth to release three solo albums starting with "Any Other World" in 1996 followed by Straight Away in 1999, Everything Changed in January 2010, which was a step out of John's ten plus years composing, and back into the songwriter outfit he was born into. John's dedication to his solo career prompted the release of his latest EP, "Heart of London."
"In the summer of 2010 I decided to continue writing and recording new music after the release of my last record 'Everything Changed.' I was interested in finding new ground that I hadn't yet explored. I thought it would be interesting to write songs using an acoustic guitar instead of piano, " John explains.
He continues, "The first song I wrote was 'Heart of London' which lit the fuse. I ended up writing three more songs to round out the EP, which represents a continuing evolution in my journey as an artist. I constantly try to find new ways of expression through my music. 'The Heart Of London' is just one of the many stops on a long road ahead."
The songs on "Heart of London" have a pop AC vibe and much like the title track are overall uplifting and joyous in spirit. John is sincere in his performance and has masterfully written songs that celebrate life and its nuances in a way that people can easily relate. He exposes his feelings and vulnerabilities with the tracks "More Love," and "You're My Religion," and urges us to live life to the fullest in "Live 'Til I Die."
In his life long career John asserted himself in the music community as a respected Composer, Recording Artist, Songwriter and Studio Musician. As a composer, John Keane created the groundbreaking sound and continues to score the worldwide hit series CSI: Crime Scene Investigation. He was nominated for an Emmy for his work on CSI in 2007 as well as 12 BMI and ASCAP awards.
For more information, please visit: http://www.johnmkeane.com
To request a copy of the album to review, please contact Heather Noonan / BFM Digital at pr (at) bfmdigital (dot) com or 818-762-0191.
About BFM Digital, Inc. BFM Digital is a global digital music company committed to serving the independent music community and delivering quality music, spoken word and video content to leading online retailers worldwide. Representing a diverse catalog of indie labels, artists and publishers, BFM distributes to all of the major music services including iTunes, Amazon, Rhapsody, eMusic, Napster, Walmart, Nokia and many more. With an unparalleled commitment to personalized service, BFM works closely with their content providers from around the world to ensure maximum exposure of their catalog by customizing marketing efforts and building strong relationships with BFM's digital store partners.
###