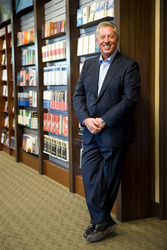 "This is like nothing I have ever offered before. This WILL be part of my legacy." … John C. Maxwell
Palm Beach, FL (PRWEB) April 27, 2011
John C. Maxwell has created a unique teaching system to add value to everyone, during this economy. Launched in January 2011, over 50,000 people now connect with John each day through his "A Minute with Maxwell" daily message, the preferred resource for video coaching on the planet!
"I am a Communicator. Words are very important to me. Words have the ability to impact lives. Through this program, I teach the meaning behind select "words" (sent in by folks just like you) and offer these lessons to assist you, both personally and professionally. In fact, the understanding, use and application of certain words have propelled me to be the speaker, trainer, writer and coach that I am today. And I would like to now pass this knowledge along to you." ~ John C. Maxwell
John C. Maxwell is an internationally respected expert speaker, author, trainer and coach committed to developing people of excellence and integrity, by providing the finest resources and training for personal and professional growth. Each year Dr. Maxwell speaks to such diverse organizations as Fortune 500 companies, foreign governments, the National Football League, the United States Military Academy at West Point, and the United Nations. John Maxwell has authored more than 52 books, which have sold more than 19 million copies. In fact, he holds the honor of the #6 all-time time top seller of books, on Amazon.com. His passion has quickly caught on, and countless individuals and businesses have benefited from his teachings. In fact, Dr. Maxwell has trained more than 5 million people, in over 126 countries to date, to help them reach their highest potential!
Click here or go to http://www.JohnMaxwellTeam.com to watch John and to receive your first free video coaching lesson by tomorrow!
A Word From John Maxwell
"All of us have benefited from the industrial age, the technology age, and most recently, the age of information. And without question, we have entered into the most influential age … the age of association. Never before has it been more crucial to be connected to, or associated with, people of influence. This is especially true for people who are in my industry…. those who are authors, speakers, trainers and coaches. There is no doubt that the biggest impact to your personal and professional life will be determined by "who" you are associated with, and your "connection" to them." … John C. Maxwell
Already established as a recognized authority, John C. Maxwell offers premier global training in the personal growth and corporate development industries. For more information, you may contact the John Maxwell Team at Info(at)JohnMaxwellTraining(dot)com or (561) 318-0547.
###