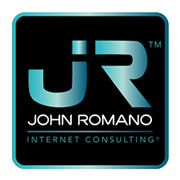 Organizations that come out of a reputation-damaging experience with minimal setbacks do so because they acted quickly to make sure their online image makes a good first impression.
Fort Lauderdale, FL (PRWEB) January 14, 2013
John Romano of John Romano Internet Consulting has announced the expansion of his Internet marketing, social networking, SEO and web site consulting services to include online reputation management.
With more than 15 years' experience launching innovative online startups, Romano has built a following based on his ability to identify damaging press, unfair online comments, personal attacks and other issues that can hurt a reputation and cause lasting damage.
Romano has worked closely with businesses worldwide to develop effective solutions to online reputation attacks through expert SEO strategies. His approach to online reputation management is effective and swift: identify goals, analyze the obstacles, and design a solution to squelch negative content and refocus outside perceptions.
"Online reputation attacks are harmful to business, but there are ethical strategies available that incorporate technology and positive online image building," Romano says. "These measures need to be implemented as quickly as possible to minimize the effect of negative information, and to inhibit any resulting loss of business."
The most damaging part of being the victim of negative content on the Internet is the inability to accurately measure the number of lost customers or lost potential customers in the aftermath.
"Attacks on the reputation of an individual or business occur every day," Romano says. "Those organizations that come out of a reputation-damaging experience with minimal setbacks do so because they acted quickly to make sure their online image makes a good first impression."
Proactive steps to dominate first page search engine results for a variety of relevant search terms is the first step toward limiting damage to the bottom line, Romano says. The follow-up is long term reputation management, including protective measures to guard against future damage.
Romano's reputation management services work for all types of businesses, organizations, and professional associations including medical practices, law firms, restaurants, hotels, retail establishments, CPAs – anyone vulnerable to online reputation damage.
About John Romano:
John Romano is a widely respected expert in the technical, conceptual, and content development of online start-ups. The founder of multiple successful web development companies and a consultant for various profitable online businesses, Romano excels at observing the big picture, managing initiatives, and providing new and creative solutions to identified problems. In the web-marketing field he has demonstrated a proven ability to drive record-high marketing campaign response rates and execute successful product launches.
In 2001 Romano launched Breakaway Solutions, a full-service web development company specializing in marketing, advertising, and PR campaigns. As a partner and eBusiness consultant, Romano develops marketing plans for all online initiatives and promotional programs. He also designs, implements, and analyzes all business processes related to customer Email collection and updating, and manages SEO campaigns.
Romano guides a team of 20 to 30 software developers working from various international locations to offer cutting-edge web services for businesses, organizations and professionals worldwide. His success and expertise has been featured by major news outlets including MSNBC, Fox, USA Today, The New York Times, The Chicago Tribune, and Kiplinger.
For more information, visit John Romano's website,.