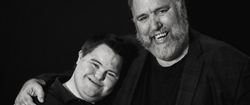 John Cronin says, "We on a mission to spread happiness."
MELVILLE, N.Y. (PRWEB) December 03, 2018
John's Crazy Socks will celebrate its second anniversary on December 9, 2018. In typical fashion, the company will use the occasion to Give Back and Spread Happiness. The company will also hold an Anniversary Open House/Pop Up Shop at its Melville office/warehouse on Saturday, December 8th.
"We're excited to share our birthday with our customers," says co-founder John Cronin.
John's Crazy Socks was founded by John Cronin, a young man with Down syndrome, and his dad, Mark X. Cronin. They have a simple mission: spreading happiness. And they have reasons to celebrate:

They employ people of differing abilities so 18 of their 35 permanent employees have a differing ability and 23 of their 27 seasonal workers have a differing ability.
They give back and have raised over $190,000 for their charity partners.
In their second year, they will earn $5 million in revenue.
Because John and Mark took a start-up and now ship across the country and to over 80 different countries.
Because their effort to show what's possible has taken John and Mark on speaking engagements across the country and into Canada and Mexico.
Because the U.S. State Department has invited John and Mark to join the State Department Speaker's Bureau to represent the U.S. overseas.
Because in advocating for people with differing abilities, John and Mark have testified before Congress twice this year.
Because they have given over 100 school tours this year.
To celebrate their anniversary, John's Crazy Socks will donate $1 for every order placed on their anniversary weekend – Saturday and Sunday, December 8 and 9th – to the Special Olympics. This is in addition to the regular Giving Back Program.
John Cronin says, "We on a mission to spread happiness and what better way to make people happy than to invite them to a party." The anniversary Open House/Pop-Up Shop is the one time of year that John's Crazy Socks throws open the doors and invites everyone inside.
The Open House/Pop Up Shop will begin at 10 a.m. and continue until 3 p.m. It will take place at 40 Republic Road in Melville, New York, 11747. The party will feature warehouse tours, a visit from Santa, music, crafts, cookies and lots of fun.
The Huntington, New York duo opened the online store on December 9, 2016 with a mission to spread happiness. "I love crazy socks, they are colorful and fun," says John. "They let me be me. My catch phrase is socks, socks, and more socks. The more people that have my socks, the more happiness we can spread."
Mark Cronin explains, "We have built a social enterprise: we have both a social and a business mission and they are indivisible." The elder Cronin explains that they have built the business on four pillars.
1. Inspiration and Hope: We want to show the world what is possible when you give someone a chance. We hire people with differing abilities and want to show the world what they can do. So far, we have created 35 permanent jobs and 18 are held by people with differing abilities.
2. Giving Back: We donate 5 percent of our earnings to the Special Olympics and have Charity and Awareness Socks that raise money for our charity partners like the National Down Syndrome Society, the Autism Society of America and the Williams Syndrome Association. So far, we have raised over $190,000 for our charity partners.
3. Socks You Can Love: We have over 2,300 different socks making John's Crazy Socks the largest sock store in the world in terms of choice. We have a Sock of the Month Club, gift boxes and bags and we offer custom socks. Our customers love it: we have over 14,000 online reviews and 96 percent are five-star reviews.
4. Making It Personal: Every package gets a thank you note from John and some candy.
You can learn more about John's Crazy Socks by visiting our website and our Facebook page. You can also contact us via email at service(at)johnscrazysocks(dot)com.