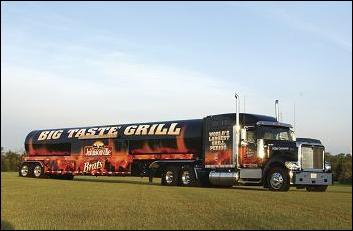 People who see the Big Taste Grill™ for the first time are awestruck because of its enormity and uniqueness
Sheboygan, WI (PRWEB) July 18, 2007
Johnsonville Sausage, the #1 sausage brand in America, is delivering the great taste of Johnsonville brats to Brat Days with the help of the Johnsonville Big Taste Grill™ —the world's largest touring grill. Brat proceeds will benefit the Alpine Kiwanis Club of Rockford.
When:
July 20-21 2007
Friday - 11am - 8pm
Saturday - 11am - 5pm
Where:
Logli's / Shopping Center area
6410 East State Street
East State Street
Rockford, IL
The Johnsonville Big Taste Grill™ is no ordinary backyard barbecue. Weighing more than 53,000 pounds and measuring 65 feet long, this giant grill requires its own semi-truck to haul it from one location to another. It is equipped with hot and cold running water, a prep station, and a refrigeration unit. The grill has the capacity to cook more than 750 brats at a time — approximately 2,500 per hour — and can accommodate more than 12 "grillmasters."
Proceeds from sales at the grill benefit local charities and other non-profit organizations. To date, the Big Taste Grill™ has raised well over 2 million dollars for charities across the United States and Canada.
You can view the Big Taste Grill in all its magnitude at http://www3.johnsonville.com/bigtastegrill/
"People who see the Big Taste Grill™ for the first time are awestruck because of its enormity and uniqueness," says Cory Bouck of Johnsonville. "We think it's a memorable way for people to try the great taste of Johnsonville bratwurst while supporting their favorite charities."
The Big Taste Grill™ was created in 1995 to celebrate Johnsonville's 50th anniversary. Since that time, it has visited numerous cities and taken part in a variety of fairs, festivals and special events throughout the United States and Canada. Along the way, it has grabbed the attention of media, including The New York Times, Chicago Tribune, Fox Sports, The Ellen Show, CNN and ESPN.
The Big Taste Grill™ runs on liquid propane and can be lit with the flick of a switch. An on-board pneumatic system raises and lowers the giant grill lid. Cargo bays beneath the framework of the grill provide easy access for the grill's accessories and equipment.
Johnsonville brats are a mildly seasoned, one-of-a-kind sausage made using a family recipe brought over from 19th century Austria. Ralph F. and Alice Stayer began making their flavorful sausage in the U.S. in 1945. Johnsonville is still a family-owned business with its primary production facilities in Johnsonville, WI.
###