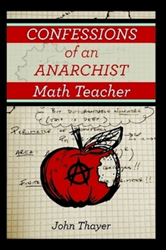 LIVERMORE, Calif. (PRWEB) June 10, 2015
Author and math teacher John Thayer realized early on in his career that he would need to figure out how to teach the reluctant learner. This realization would see him improving on and creating new teaching skills, eventually creating stories that would find their way to the page.
Stories of tragedy, humor, success and inspiration come to life in Thayer's new memoir, "Confessions of an Anarchist Math Teacher" (published by Lulu), in which he discusses some of the highs and lows from his teaching career and provides readers with teaching tips.
Thayer says he stumbled through his first years of teaching in California and New York. He then went to New Mexico, where he taught as a bilingual math teacher and a teacher at a charter school for reluctant and rebellious learners. It was then that Thayer transcended from teacher to student.
"Confessions of an Anarchist Math Teacher" chronicles Thayer's learning experience as he discovered ways to get through to even the most stubborn or rebellious students. By showing his students the ways in which math is relevant to everything, he was able to get through to them and get them excited about math. He hopes his book will be able to help other parents and teachers do the same for their students.
"Confessions of an Anarchist Math Teacher"
By John Thayer
Softcover | 6 x 9 in | 136 pages | ISBN 9781483430454
E-Book | 136 pages | ISBN 9781483430447
About the Author
John Thayer has been a teacher in California, New York and New Mexico. He has taught in public schools, community colleges and a creative charter school for struggling students. In New Mexico he taught as a bilingual math teacher and learned how to teach math through project-based and experimental models of teaching. He is now living in California with his wife and two sons, getting ready to teach a new school year.
Lulu empowers people of all ages to explore and express their interests, passions and expertise through books, photography and art. Since introducing self-publishing in 2002, Lulu has empowered creators in more than 225 countries and territories to produce nearly two million publications. Lulu Jr. allows children to become published authors, encouraging creativity, strengthening literacy and building self-esteem. Picture.com offers professional photography of collegiate and professional sports, memorable and historic events, fine art and home décor. For more information, please visit lulu.com.