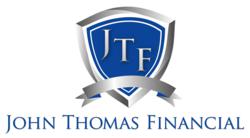 Here at John Thomas Financial
The success of our clients is our success."
New York, NY (PRWEB) November 10, 2011
On November 2, 2011- CEO Thomas Belesis of John Thomas Financial appeared on Fox Business After The Bell.
John Thomas Financial is a privately held financial services firm dedicated to the individual brokerage and investment banking needs of our clients. In today's world of global economics we study the dynamics that affect today's markets and understand the elements that foster growth and achievement in the industries that fuel our global economic engines. John Thomas Financial representatives are available to assist clients before the markets open and after the markets close.
John Thomas Financial was founded on the principals of integrity, service excellence and a dedication to client success. This means providing each client with customized solutions to meet their financial goals. It means bringing experience, expertise and independent research to inform investment decisions. It means delivering service with drive, energy, thoughtfulness and integrity. The success of our clients is our success.
###