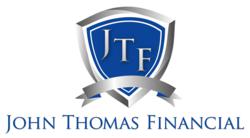 We see gains in manufacturing, vehicle sales, employment, hourly earnings and consumer credit. In addition, the housing market is perking up with prices increasing and mortgage activity rising... Mike Norman
New York, NY (PRWEB) October 16, 2012
John Thomas Financial Chief Economist, Mike Norman, said he sees continuing signs of improvement in the economy, but remains focused on the looming fiscal cliff.
"Things continue to look better said Norman. We see gains in manufacturing, vehicle sales, employment, hourly earnings and consumer credit. In addition, the housing market is perking up with prices increasing and mortgage activity rising."
Despite the good news, Norman says that things could turn gloomy very fast if lawmakers in Washington fail to find an agreement that would avoid falling over the cliff. "There are trillions of dollars in spending cuts and tax increases that go into effect automatically on Jan 1, 2013," he said. "The negative impact to GDP would be sharp, probably in the neighborhood of four to five percent."
Norman, however, remains optimistic that the fiscal cliff can be avoided. Congress, the president and presidential candidate Mitt Romney all realize what a disaster it would be to go over the cliff. That's why he believes a deal will be reached before the New Year.
He cautions that investors would have to carefully evaluate any deal in terms of when it went into effect, over what length of time it would play out and how much fiscal drag it would apply. "Any deal, regardless of its terms, would constitute austerity," he warned. "And that will ensure slow growth in the economy for years to come."
"The best deal would be no deal," Norman said. That would allow the economy to continue its expansion and the deficit would shrink on its own. If we've seen anything from Europe it's that austerity doesn't work. "It doesn't eliminate deficits, but what it does do is cause growth to contract and unemployment to skyrocket."
Even better, the deficit should be increased. "That would add to aggregate demand and we'd see a stronger economy and faster job growth." However, with all the misplaced debt fears he doesn't expect to see that happen. For now the best we can hope for is modest, positive growth and job creation. Stocks will rise in that environment, but it would only take one bad policy move, like austerity, to put us back in recession.
For timely insights, news, and commentary on economics and financial markets, visit the JTF Blog or join the John Thomas Financial community on Twitter and Facebook.
About John Thomas Financial
John Thomas Financial, a member of FINRA and SIPC, is an independent broker-dealer and investment banking firm headquartered in New York City's Wall Street district. Emphasizing a client-centric approach to managing all aspects of its business, John Thomas Financial and its affiliates offer a full complement of retail brokerage, private wealth management, and corporate advisory services tailored to the unique needs of its clients. The firm publishes the Fiscal Liquidity Index, a unique daily indicator that looks at government spending and its impact on the financial markets,The Kaufman Report, a weekly technical stock market analysis, and The John Thomas Financial Economic Outlook, a report analyzing consumer sentiment, market outlook, credit cycles and dozens of other market influences.
Important Disclosures:
The information provided in this publication is for informational purposes only. Investors should consider this report as only a single factor in making their investment decision. This informational report is not an offer to sell or a solicitation to buy any security. This report has been prepared as a matter of general information. It is not intended to be a complete description of any company, and is not an offer to buy or sell any security. All facts and statistics are from sources believed to be reliable, but are not guaranteed as to accuracy. Before acting on the materials herein you should consider whether it is suitable for you particular circumstances and, if necessary seek professional advice investments involve risk and an investor may incur losses. Past performance is no guarantee of future performance. Trading and investment decisions are the sole responsibility of the reader.