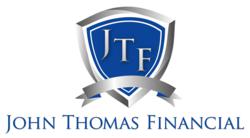 New Nork, NY (PRWEB) January 05, 2012
John Thomas Financial successfully incorporated Modern Monetary Theory (MMT) into their economic forecasts last year, producing exceptional forecasting results.
Modern Monetary Theory, or MMT as it is frequently referred to, is an economic school of thought developed in the mid 1990s that describes governments and economies, which operate under fiat money systems where there is no convertibility or fixed rate of exchange.
Governments that operate under fiat systems need not be constrained in their spending because they are the monopoly issuers of the currency. As such they are not dependent on taxes or borrowing for revenue and the central bank and fiscal authority, together, act to set interest rates, not the market.
"Because of our more accurate understanding of the monetary system we were able to correctly forecast such things as GDP growth, stock prices, interest rates, currencies and commodities while others got these markets very wrong," said Mike Norman, John Thomas Financial's Chief Economist.
In addition, the firm was able to take advantage of major market moving events like the S&P downgrade of US credit and European solvency. "A lot of people panicked, but we had a clear understanding of what was happening and what the outcome would be. In many cases we faded these misinformed views," said Norman.
MMT has seen a sharp rise in coverage on many financial blogs and among some highly regarded academic economists. Last week in CNBC Senior Editor, John Carney, said that "the only guys who got everything right were the MMT guys."
"We're going to continue to use this forecasting approach and we believe that it will translate into far superior investment performance for the firm's clients," said Norman.
About John Thomas Financial
John Thomas Financial, a member of FINRA and SIPC, is an independent broker-dealer and investment banking firm headquartered in New York City's Wall Street district. Emphasizing a client-centric approach to managing all aspects of its business, John Thomas Financial and its affiliates offer a full complement of retail brokerage, private wealth management, and corporate advisory services tailored to the unique needs of its clients. The firm publishes the Fiscal Liquidity Index a unique daily indicator that looks at government spending and its impact on the financial markets, as well as The John Thomas Financial Economic Outlook, a report analyzing consumer sentiment, market outlook, credit cycles and dozens of other market influences. For timely insights, news, and commentary on economics and financial markets, visit the John Thomas Financial's website http://www.johnthomasfinancial.com or join the John Thomas Financial community on Twitter and Facebook.
###