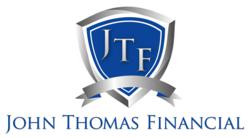 New York, NY (PRWEB) October 11, 2012
John Thomas Financial, a full service independent broker/dealer and investment-banking firm located in New York City's Financial District, is pleased to announce regulatory veteran Mr. Richard Nummi, Esq. as the firm's newly-appointed Chief Risk Officer. Mr. Nummi has over 20 years of progressively broad-based executive regulatory and compliance experience, including service as a Senior Enforcement Attorney at the United States Securities & Exchange Commission in Washington, D.C. Prior to joining John Thomas Financial, Mr. Nummi was managing partner at Nummi & Associates, a premier provider of regulatory compliance and business development consulting services representing a broad spectrum of broker-dealers, issuers, registered investment advisors and vendors.
Mr. Nummi will oversee all risk-related areas of John Thomas Financial's business operations, working with the firm's legal and compliance team on the identification, analysis and mitigation of regulatory risk. He will be responsible for comprehending complex regulatory requirements and developing detailed action plans to forestall potential issues. In addition to managing the firm's market risk, Mr. Nummi will guide John Thomas Financial to proceed in a prudent fashion as a good corporate citizen.
A published author and nationally-recognized expert in securities regulation and governance, Mr. Nummi is a frequent financial industry media commentator, appearing regularly in the Wall Street Journal and InvestmentNews.
John Thomas Financial has announced several key hires as the firm continues its growth and expansion of service offering. In the last year, the firm appointed Jim Kane as Managing Director of Fixed-Income Securities and welcomed Avi Mirman as Head of Investment Banking. Last month, John Thomas Financial introduced Highline Research Advisors, a division that offers a full range of institutional services to companies in the healthcare sector.
For timely insights, news, and commentary on economics and financial markets, visit the JTF Blog or join the John Thomas Financial community on Twitter and Facebook.
About John Thomas Financial
John Thomas Financial, a member of FINRA and SIPC, is an independent broker-dealer and investment banking firm headquartered in New York City's Wall Street district. Emphasizing a client-centric approach to managing all aspects of its business, John Thomas Financial and its affiliates offer a full complement of retail brokerage, private wealth management, and corporate advisory services tailored to the unique needs of its clients. The firm publishes the Fiscal Liquidity Index, a unique daily indicator that looks at government spending and its impact on the financial markets, The Kaufman Report, a weekly technical stock market analysis, and The John Thomas Financial Economic Outlook, a report analyzing consumer sentiment, market outlook, credit cycles and dozens of other market influences.
Important Disclosures:
The information provided in this publication is for informational purposes only. Investors should consider this report as only a single factor in making their investment decision. This informational report is not an offer to sell or a solicitation to buy any security. This report has been prepared as a matter of general information. It is not intended to be a complete description of any company, and is not an offer to buy or sell any security. All facts and statistics are from sources believed to be reliable, but are not guaranteed as to accuracy. Before acting on the materials herein you should consider whether it is suitable for you particular circumstances and, if necessary seek professional advice investments involve risk and an investor may incur losses. Past performance is no guarantee of future performance. Trading and investment decisions are the sole responsibility of the reader.