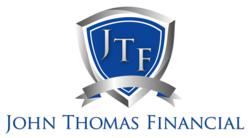 New York, NY (PRWEB) October 16, 2012
John Thomas Financial, a full-service independent broker/dealer and investment-banking firm located in New York City's Financial District, announced today that it has hired Thomas G. Pinou as Chief Financial Officer. Mr. Pinou will be responsible for the accounting, administration and operations of the firm's financial activities.
An original founder of Rodman & Renshaw, Mr. Pinou's career in financial services spans nearly thirty years, having spent thirteen at Rodman & Renshaw, first as Controller and then as CFO. Prior to that, Mr. Pinou was responsible for the Firm Trading and Syndicate accounting areas at Yamichi Securities, Dean Witter and Smith Barney.
John Thomas Financial has made several noteworthy additions to its leadership team over the last year. Most recently, Mr. Richard Nummi was appointed Chief Risk Officer, a strategic move that came on the heels of two major expansions of the firm's service offerings. Earlier this year, John Thomas Financial welcomed Avi Mirman as Head of Investment Banking. Last month, Highline Research Advisors was introduced, a division that offers a full range of institutional services to companies in the healthcare sector.
For timely insights, news, and commentary on economics and financial markets, visit the JTF Blog or join the John Thomas Financial community on Twitter and Facebook.
About John Thomas Financial
John Thomas Financial, a member of FINRA and SIPC, is an independent broker-dealer and investment banking firm headquartered in New York City's Wall Street district. Emphasizing a client-centric approach to managing all aspects of its business, John Thomas Financial and its affiliates offer a full complement of retail brokerage, private wealth management, and corporate advisory services tailored to the unique needs of its clients. The firm publishes the Fiscal Liquidity Index, a unique daily indicator that looks at government spending and its impact on the financial markets, The Kaufman Report, a weekly technical stock market analysis, and The John Thomas Financial Economic Outlook, a report analyzing consumer sentiment, market outlook, credit cycles and dozens of other market influences.