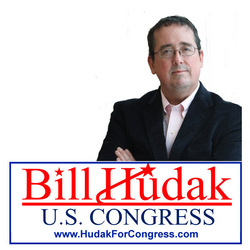 By this legal scheme, the Congressman seeks to avoid having to testify under oath or to respond until after the election to evidence provided by our attorneys that Mr. Tierney's advertisements and statements are false and defamatory
Danvers, MA (Vocus) October 27, 2010
Bill Hudak, http://www.hudakforcongress.com, candidate for U.S. Congress in the Massachusetts 6th Congressional District, announced today that lawyers from the law firm of Todd & Weld, LLP, counsel for Congressman John Tierney, notified Richard Wise, counsel for Bill Hudak, that Tierney intends to argue an emergency motion at 9:00 a.m. on Wednesday, October 27, 2010, at the Essex Superior Court in Lawrence, Massachusetts, seeking to strike Hudak's request for an evidentiary hearing already scheduled for 2:00 p.m., and will move to quash the subpoena served on Tierney yesterday.
"By this legal scheme, the Congressman seeks to avoid having to testify under oath or to respond until after the election to evidence provided by our attorneys that Mr. Tierney's advertisements and statements are false and defamatory," said Bill Hudak.
"Mr. Tierney provides no affidavits denying the charges we have filed. Instead, despite assaulting my rights under the First Amendment this entire campaign, Mr. Tierney is now hiding behind the same free speech provisions to say that since no court has the power to silence him, whether his statements are false or not, he is entitled not to appear in court or even provide affidavits denying the charges, until after the court has ruled on his motion to avoid," said Hudak. "The papers claim that if that motion is not successful, he should be allowed to testify by affidavit only, rather than face cross examination, because he has an interview scheduled with the Gloucester Times at 1:00 p.m., and that he is simply too busy to comply."
"I'm sure we'd be happy to start with other evidence first and wait until Mr. Tierney arrives so as to not interfere with the Congressman's schedule," said Hudak. "But Mr. Tierney must understand that as an Attorney and Congressman the commands of the law deserve respect."
"It is also noteworthy that Mr. Tierney had no problem taking time away to appear in Court voluntarily only a couple weeks ago, without a subpoena, when his wife pled guilty to four felony counts of tax fraud," said Hudak. "Now, suddenly, he is not interested in answering charges against him personally, but would rather continue to deceive the voters through false statements. It is most disingenuous for Mr. Tierney, of all people, to use the Constitution to establish his defense, given the subterfuge he has employed to that sacred document his entire career. What is most disturbing is the hypocritical nature of how he lives by a set of rules that are unique to him, in defiance of the laws applicable to everyday citizens."
The Complaint filed Monday states that Tierney and his committee have endeavored to "subvert the integrity of the electoral process by intentionally and maliciously fabricating materially false and defamatory statements" of Hudak's position on four of Hudak's key issues involving tax cuts, the middle class, seniors, and veterans. Hudak seeks an injunction ordering Tierney to cease and desist the dishonest conduct, but does not seek any monetary compensation in the lawsuit. The Case is entitled "Bill Hudak vs. John Tierney", Essex Superior Court, C.A. No. 2010-2237-C. The Lawrence Superior Court is located at 43 Appleton Way, Lawrence, Massachusetts.
ABOUT BILL HUDAK
Bill Hudak, http://www.hudakforcongress.com, candidate for U.S. Congress in the Massachusetts 6th Congressional District, is a practicing attorney with more than 27 years of experience. Licensed in Massachusetts, New York, North Carolina and Florida, as well as in multiple Federal District Courts and the United States Supreme Court, Bill's consumer advocacy efforts have earned him a reputation as a lawyer practicing with "truth, honor and integrity." A 25-year resident of the 6th Congressional District in Massachusetts, Bill is running for office to restore balance to a Congress that is out of step with the needs of its citizens.
For more information about Bill and his campaign to bring common sense to the U.S. Congress, visit http://www.hudakforcongress.com and join us on YouTube, Facebook and Twitter.
###