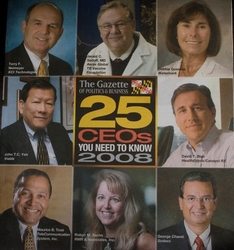 Rockville, MD (PRWEB) September 9, 2008
The Gazette of Politics and Business recognized Viable founder and president John T.C. Yeh in its annual roundup of CEOs of up-and-coming businesses in Maryland. Mr. Yeh is the only deaf executive to appear in the 2008 edition of the paper's "25 CEOs You Need to Know" feature, and is one of eight CEOs whose face appears on the cover.
The Gazette of Politics and Business is one of 35 weekly publications of The Gazette, which has 235,000 unique visitors to its website and is owned by the Washington Post Company. The 25 honorees were winnowed from a list of 130 CEOs nominated by economic development offices from around the state. Publisher Cliff Chiet congratulated each honoree as "an outstanding example of a top performing CEO in Maryland." The list can be seen at http://www.gazette.net/business/ starting on September 18 and will remain online until the 2009 list is posted.
Said Mr. Yeh, "The recognition is equally on the company, which has truly been employee-driven. The people who work at Viable all had a hand in building the company into what it is today." Viable counted six employees when it moved into its present Rockville headquarters in May 2006, and has since grown to 150 employees and expanded to Ellicott City, Frederick and Towson.
Viable is a developer of videophones and a provider of video relay services (VRS), which enables deaf and hard of hearing people to make phone calls by using video technology to connect to a sign language interpreter, who will dial out to another party and interpret their phone conversation.
Mr. Yeh and a contingent of Viable employees will attend the Gazette of Politics and Business Exceptional 53 Business awards reception in Bethesda this September 18, when the publication will recognize all 25 CEOs and unveil its inaugural annual list of top 53 companies in Maryland.
About Viable, Inc.:
Viable provides next-generation video relay services for deaf and hard of hearing persons that can be accessed wherever there is Internet or wireless connectivity, opening them to a world of communication possibilities. Founded in 2006, Viable is a private, deaf-owned company, and the majority of its employees are deaf and hard of hearing and are personally vested in the innovation and development of the company's products and services. Further information is available at http://www.viable.net.
About Telecommunications Relay Services:
Mandated by Title IV of the Americans with Disabilities Act of 1990, telecommunications relay services (TRS) enables individuals with hearing or speech disabilities to achieve functional equivalence by accessing telephone systems to place or receive calls through an intermediary known as a relay operator or relay interpreter. Emergent IP technology has given rise to video-based solutions, which are known as video relay services (VRS). VRS options include using a webcam or a videophone to connect to a video relay interpreter, and allow deaf and hard of hearing callers for whom sign language is native to fully achieve the ideal of functional equivalence.
###