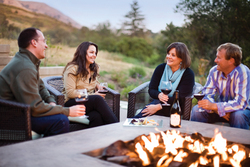 After such a difficult year we felt the timing was right for an upbeat campaign focusing simply on joie and living joyfully
San Francisco, CA (Vocus) October 20, 2009
Joie de Vivre, California's largest boutique hotel collection, is sharing the joie of travel with a "Third Night Free" deal at its 35 properties through June 15, 2010. Anchoring its fall-winter "Joie of Life" campaign, the promotion invites guests to turn two-day stays into three-day getaways when they book three nights at http://www.joieoflife.com from October 20, 2009 to May 31, 2010.
Joie de Vivre's ambitious "Joie of Life" campaign seeks to inspire people to embrace joie - a new way of looking at joy - and explore living joyfully, happily, and exuberantly. The campaign portal http://www.joieoflife.com features an integrated social media platform that encourages engagement about what joie means alongside a more traditional travel menu of hotel packages, the brand-wide "Third Night Free" offer, and contests.
The Joie of Life microsite features:

"After such a difficult year we felt the timing was right for an upbeat campaign focusing simply on joie and living joyfully," said Joie de Vivre Founder and CEO Chip Conley, who traveled to Bhutan earlier this year to study the country's Gross Happiness Index. "It became clear how timely this was when French President Nicolas Sarkozy began advocating for a 'joie de vivre' index weeks before we launched http://www.joieoflife.com. You could say we're tapping into a burgeoning mood."
Known for its creative grassroots programs, Joie de Vivre was founded more than 20 years ago in San Francisco, which was recently named one of the world's happiest cities by Forbes.com. The company name Joie de Vivre translates literally from French to "the joy of living."
"From the beginning, Joie de Vivre's mission has been 'creating opportunities to celebrate the joy of life.' Our new joie campaign deeply connects with that mission, and we hope it will truly resonate with people," said Conley. For more information on the Joie of Life campaign, please visit http://www.joieoflife.com.
About Joie de Vivre
San Francisco-based Joie de Vivre (http://www.jdvhotels.com) is a collection of creative lifestyle businesses. Founded in 1987 by Chip Conley, Joie de Vivre manages nearly 40 boutique hotels, more than 20 restaurants and four spas, and is recognized for creating some of the most innovative hospitality services and products and designing one-of-a-kind properties. Joie de Vivre also manages residential projects with hotel-style services and amenities. As California's largest boutique hotel collection, Joie de Vivre Hotels is becoming the hotel brand synonymous with the California travel experience, offering a wide range of unique urban, suburban and waterfront boutique hotels that cater to leisure and business travelers in all market segments. Joie de Vivre hotels are located in San Francisco, Marin County, Silicon Valley, San Francisco East Bay, Big Sur, Sonoma County, Santa Cruz, Sacramento and Los Angeles. In 2009, Joie de Vivre continues its California expansion with hotels opening in Huntington Beach, Long Beach, Venice Beach, and Santa Clara.
MEDIA CONTACTS:
Lori Lincoln, Director of Public Relations, Joie de Vivre
Tel. 415.773.1067
Kristina Hjelsand, Senior Public Relations Manager, Joie de Vivre
Tel. 415.364.5581
###