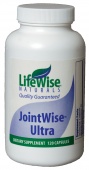 "I have now completed two bottles of your JointWise® Ultra, and my knee pain and stiffness are virtually gone." says B. Hilliker of California.
Kansas City, MO (PRWEB) January 22, 2013
With the population's continual search for joint supplements that work among other joint protection techniques, new research has been revealed supporting JointWise® Ultra by LifeWise, a product that has created a solution for people searching to not only temporarily relieve their joint pain, but also protect and rebuild their damaged joints. This natural anti-inflammatory and joint health supplement comes without a list of risks and side effects, and also promotes cardiovascular health. These characteristics seem to set JointWise Ultra apart from other joint support and arthritis pain relief products on the market.
Many common pain relievers, both prescription and OTC (Over the Counter), are associated with potentially dangerous side effects such as stomach problems or cardiovascular issues. One such arthritis drug was recently removed from the market after being shown to double the risk of heart attack and stroke, and resulted in up to 55,000 deaths in the United States alone. NSAIDS, the most popular form of OTC pain relievers (incl. ibuprofen, aspirin, naproxen), block the production of prostaglandins, hormone-like substances in the body that aid in the regulation of blood pressure, blood coagulation, proper kidney function, the secretion of gastric acid, and the protection of the stomach lining.
While conventional pain-relief drugs may provide significant short-term relief from arthritis pain, they aren't formulated to stop the further deterioration of arthritic joints. This causes users of these pain-relief drugs to build a dependence on them, which, in turn, leads to increased risks of harmful side effects caused by the continued use of the pain-relievers. JointWise® Ultra combines ingredients to safely block both major pain pathways (COX / 5-Lox) while also protecting joint structures and supplying them with the nutrients they need for maintenance and repair.
According to the company's president, "…with the creation of JointWise® Ultra, LifeWise Naturals has remained true to its mission of offering only the safest and most scientifically-sound products, with proven health value." In fact, the most recent study conducted with one of the formula's key herbal ingredients (phellodendron amurense), confirms its protection against the destruction of joint cartilage, along with its absence of toxicity. 
Another key ingredient in JointWise® Ultra, derived from the boswellia plant, was shown in a recent clinical trial to significantly and safely reduce pain and improve physical functioning in patients with osteoarthritis of the knee. 
"I have tried other glucosamine formulations, and also was on a [well-known physician's] regimen with little success," says B. Hilliker of California.  "I have now completed two bottles of your JointWise® Ultra, and my knee pain and stiffness are virtually gone."
No prescription is needed for JointWise® Ultra, as it is an all-natural supplement available directly through LifeWise Naturals. Compared to the cost of a typical arthritis prescription drug, JointWise® Ultra is considerably less expensive at its current price of $23.50 per 120-capsule bottle.
For more information on JointWise® Ultra or other LifeWise Naturals products, or to order LifeWise Naturals products online, visit lifewise.com.