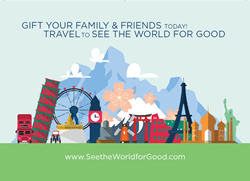 Imagine taking a family vacation where you can make a difference together
Santa Monica, Ca (PRWEB) September 22, 2015
Recruiting for Good, a social staffing solution funding See the World for Good, a high-purpose funding gift travel service, helps families enjoy goodie cruise vacations.
See the World for Good's purpose in providing a funding gift travel service is to help families make a difference while vacationing. According to Recruiting for Good Founder, Carlos Cymerman, "Fathom cruises deliver make a difference activities for the whole family to enjoy and do together."
Carlos Cymerman adds, "Families participate by making client referrals; enabling us to generate proceeds on their behalf to fund Fathom cruises for good."
About
Since 1998, Recruiting for Good has been a staffing solution, connecting Information Technology and Engineering professionals to great jobs, and helping companies find talented professionals. Our mission is helping people see the world for good. For more information about using Recruiting for Good, please check out RecruitingforGood.com.