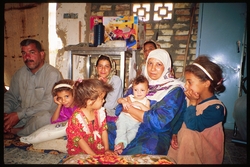 These educational support programs for children of conflict are the best way to help them heal
Washington, DC (PRWEB) June 27, 2008
The Jolie-Pitt Foundation has announced a $200,000 pledge to Women for Women International's program in Iraq to sponsor 300 women, and more than 1,000 children who will benefit. The donation will allow women to invest in the health, education and nutrition of their children.
Ms. Jolie has visited Iraq twice in the past year. "These educational support programs for children of conflict are the best way to help them heal," said Ms. Jolie. "We hope to encourage others to give to these great organizations," stated Brad Pitt.
Women for Women International was founded in 1993 to help women overcome the horrors of war and civil strife in ways that can help them rebuild their lives, families, and communities. Since 2003, its Iraq program has provided immediate and long term economic solutions to more than 4,000 women and works with organizations and governing bodies from the grassroots up to the highest levels of leadership to address the needs of Iraqi women and families.
According to a Women for Women International report on Iraq released earlier this year, over 70% of the 1,500 Iraqi women interviewed said their family cannot afford to pay for the necessities of daily life. One Iraqi mother said, "If I was the president of the country, I would make filling the stomachs of the people as my utmost priority."
A Women for Women International-Iraq representative said, "This generous donation will help these women who suffered to get a better life for them and for their families and will ensure that their children will have a better future. We believe that stronger women build stronger nations. The support we are receiving from Angelina Jolie and Brad Pitt will save lives and help us to build a strong future for the children of Iraq."
The donation to Women for Women International is part of a $1 million commitment to support the education of 8,000 young people from both the United States and Iraq impacted by the recent conflict.
Learn more about how to help the women of Iraq WomenforWomen.org
###