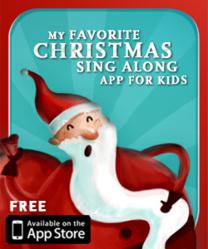 Not only is Jolly Jingle a fun and innovative instructional tool that helps parents teach their children timeless Christmas carols, but it also appeals to the young at heart wanting to get into the holiday spirit
Bandung, Indonesia (PRWEB) December 08, 2012
With the holiday shopping season well underway, now is the perfect time to hunt for some great deals. That's why on Saturday, December 8th, Hompimplay is putting the perfect gift in your Christmas stocking by offering a free premium download version of the delightfully merry Jolly Jingle app. Jolly Jingle will also be featured in AppAdvice's Appsgonefree app. AppAdvice is the ideal resource on the web for people looking to discover iOS apps.
Not only is Jolly Jingle a fun and innovative instructional tool that helps parents teach their children timeless Christmas carols, but it also appeals to the young at heart wanting to get into the holiday spirit. Through the use of integrated vocals, sing-along lyrics, colorful animated characters, interactive gameplay, and effortless navigation, this app is guaranteed to provide hours of joy and merriment.
Since its launch on November 15th, the Jolly Jingle app has received numerous reviews and enthusiastic praise from both the press and its users:
Charly James of A4cwns.com said, "This app pops up as a big visual howdy do to you when it first launches. It makes you smile. It makes you smell cookies in the oven and long for it to be snowing outside. The pop of colors and visual layout is stunning."
"The fact that there are different interactive elements to the application to press while listening to the song makes it motivating to play for kids." Jessica Chase, a licensed speech-language pathologist and creator of consonantlyspeaking.com said, "Children can learn different Christmas-related vocabulary and describe different holiday traditions. "
"The designers of the app took their time to ensure everything worked properly and was easy for kids of all ages to enjoy", said Randy Williamson of App Modo "…The controls are very intuitive and simple through the app. The actual sing-along part of the app is also very simple to understand. One of the most impressive things about this app is the high quality audio that was used for every one of the songs."
On December 8th, make your season bright and save $2.99 all day long by downloading this free Jolly Jingle sing-along app. You can download the premium version for free and enter a world of timeless carols, including: Jingle Bells, Rudolph the Red-Nosed Reindeer, Frosty the Snowman, We Wish You a Merry Christmas, and much more! There are a total of 21 tracks and each song comes with four variations.
Device requirements:

iPhone 3GS, iPhone 4, iPhone 4S, iPhone 5, iPod touch and iPad.
Requires iOS 4.3 or later.
App download size: 35 MB.
Pricing and availability:

Jolly Jingle 1.2 is priced at $2.99 USD (or equivalent amount in other currencies), but is free to download on Saturday, December 8th.
It's available worldwide exclusively through the iTunes App Store in the Kids Game category.
Review copies available on request.
About Jolly Jingle
Hompimplay's iPhone, iPod touch Christmas songs app, Jolly Jingle, will be available for free this Saturday, December 8th. Jolly Jingle is a fresh, exciting and educational new game for children to get them into the Christmas spirit. It helps parents teach their children timeless Christmas classics. As children gleefully sing along, they can click on magical icons that reveal hidden surprises and explore a winter wonderland of Christmas magic!
If you need additional information, please contact http://www.hompimplay.com