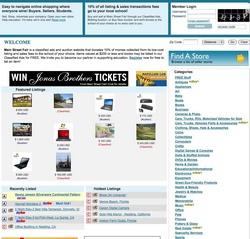 Once people visit Main Street Fair, they will see there is finally an e-commerce shopping site that has consumers' interests at heart
Rancho Santa Margarita, CA (Vocus) July 7, 2009
Main Street Fair, the first classified ads and auction online shopping site to donate a portion of its revenue to schools across America, is giving away free Jonas Brothers concert tickets.
Main Street Fair, a consumer-conscious 'give back' site, is making its debut. To kick off its launch, Main Street Fair is giving away Jonas Brothers concert tickets.
"Once people visit Main Street Fair, they will see there is finally an e-commerce shopping site that has consumers' interests at heart," said Lisa Porter, CEO, Main Street Fair. "It's a place where people can make a lot of money by having their own online auction and classified ads site without the cost or liability of ownership,"
Main Street Fair was developed by a team led by a single mother of an 11-year-old, who after sitting on the School Site Council of her daughter's elementary school, became frustrated by dismal education funding.
"Main Street Fair is different from other classified ads and auction sites," said Porter. "It has free or low-cost classified ads and online auction listings and contributes a percentage of its revenue to schools of the sellers' choice. Nothing extra comes out of anyone's pockets except for Main Street Fair's."
Categories on Main Street Fair range from free stuff to cars to used electronics. Houses, concert tickets, travel vacation packages and much more are a small sampling of what visitors can list and find there. At the same time, Main Street Fair donates a portion of its low listing fees to whatever school the seller chooses. Everyone benefits.
"We expect teachers, school administrators and parents to jump at this opportunity to earn money for their school," said Porter. "The potential for schools across America to earn large sums of money is why we believe teachers will become our biggest advocates."
"Most people would like to contribute more to the schools to keep programs going, but in this economy, they just don't have the money," said Porter. "Now, all they need to do is list unwanted items for sale and Main Street Fair will make the donation."
Main Street Fair also advocates making education costs lower for college students. Listing textbooks on Main Street Fair is free so college students can buy books without paying mark-up fees.
Charging an introductory offer of only $15 per month to open a storefront that hosts unlimited listings, Main Street Fair also expects to see a large number of storefront openings. The storefronts offer owners a variety of templates to choose from, logo upload capabilities, a unique online address, the ability to send out customized newsletters and much more.
Companies can also promote themselves using Main Street Fair's banner ad program. The ads may be linked to their website. This could increase their website traffic significantly. Furthermore, advertisers will have access to detailed statistical reports that monitor banner and text ads using real-time information. These comprehensive reports includes the number of clicks and click through rate (CTR) and number of impressions to keep ads performing at their maximum potential.
"Main Street Fair donates funds to schools, sellers make money by getting rid of things they don't want or product they have in stock, and buyers find great bargains. It's a sweet deal for everyone."
The more people that use Main Street Fair to buy and sell, whether through its classified ads or auction, the more money the schools will earn.
Main Street Fair is starting on the ground floor and, over time, expects to generate an increasingly growing and ongoing revenue stream for schools.
The company is headquartered in Rancho Santa Margarita. For more information on Main Street Fair, please call (877) 797-1398 or log on to http://www.mainstreetfair.com.
###